Hostpapa India Promo Code and Discount Coupon Code
About Hostpapa Hosting
Hostpapa is a 100% genuine web hosting company in Canada. It has gained its name and become very popular because of its high-quality service at low cost from small to medium business websites. Hostpapa offers many services including Shared Web Hosting, VPS hosting, Reseller Hosting space, etc. Their service includes everything you need to build a perfect website. They also provide web hosting for individuals. It becomes very easy to build your website, just drag and drop items to quickly design your website.
Which Hosting Plan to Choose?
You have plenty of options to choose from, you will need to choose the plan which is more related to your usability, performance, and storage. Your plan should have all the services you need. For instance, most of the customers sign up for the Shared Hosting packages. All come with free domain registration and unlimited bandwidth. Apart from this they also provide 400+ One-Click software installation through Softaculous. Business, Bloggers, and Developers require more hosting enthusiasm, they could go for the VPS plans. Customers will get full control over their VPS with complete root access and instant provisioning.
How to make Payment to Hostpapa?
Various payment methods are available for different regions where their services are available. Hostpapa provides services to countries like the US, UK, Australia, Canada, Belgium, Europe, Singapore, Hong Kong, India, Ireland, and New Zealand.
MasterCard and Visa credit cards are accepted in all these regions, customers from the US and Canada can also make payments through American Express, Indian customers can make payments through PayPal, Maestro, and Delta, for UK customers, they can make payment through Maestro and Solo.
Hostpapa doesn't accept payments through cheques, money orders, or payments made through Western Union.
What is the Price of the Hosting Plan Offered by Hostpapa?
Hostpapa offers affordable services which also come with discounts and coupons. You can save up to 70% on shared hosting plans. The entry-level of shared hosting plans i.e., the "Starter Plan" is priced at $3.95/month, the "Business Plan" is priced at $12.99/month. You can also avail of great discounts using promo codes.
How to use Hostpapa India Promo Code 2021?
1. Click on "Claim Our Hostpapa Promo" it will take you to HostPapa's website and activate the promo code. Follow these instructions to know the full process.
2. Sign up by clicking on the "Get Started" button.
3. A page will appear showing the shared hosting plans and price. There will be 3 options to choose from – Starter, Business, and Business Pro.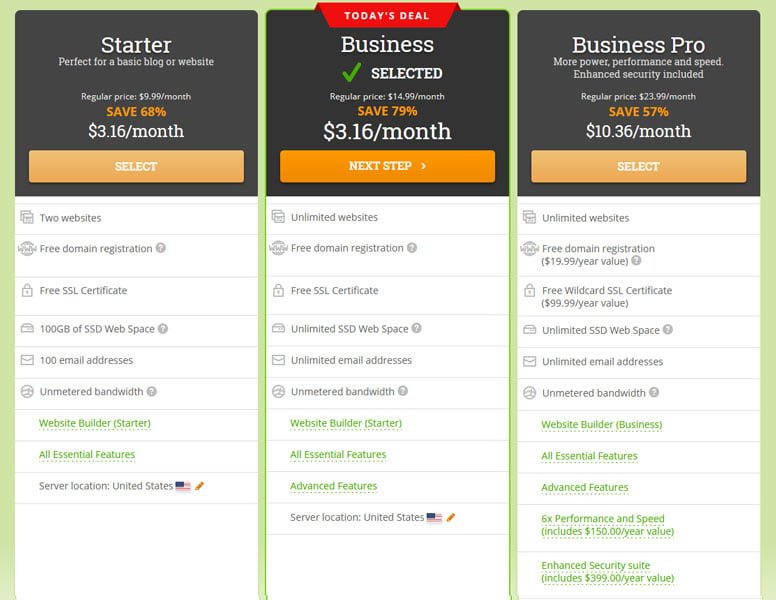 4. Click on the "Select" button to choose your plan.
5. Now you will have to choose your domain, you have two options:
If you want to register as a new domain, enter the name of the domain in the option "I need a domain name" and click on "Check Availability" to move further.
If you already have a domain then choose from, "Please transfer my domain to Hostpapa" or "I will update my nameservers" then click on "continue" to proceed.
6. It will bring you to a screen where you have to choose your billing term from 12 months, 24 months, or 36 months. Choose whichever is suitable for you.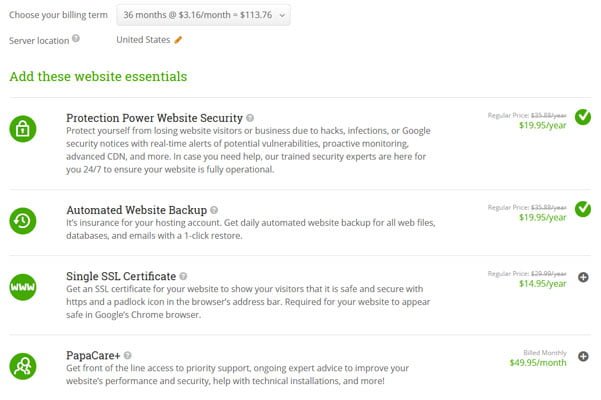 7. After choosing the billing plan, scroll down to choose any add-on services you wish to purchase. Uncheck those which you don't need.
8. Scroll further to the "Account Information" section,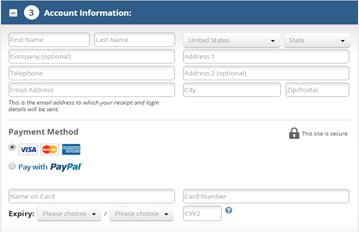 here you will have to fill in your name, address, and contact information correctly. You will receive an email sending the receipt and login details. Now choose the payment method and fill in relevant details.
9. Under the payment page, a section will be provided "Have a Promo Code", if you have the promo code, enter it in the box to get the best discount instantly.
10. Agree to the terms and conditions and click on "Create Account".
Domain Privacy in HostPapa Domain Hosting Services
Hostpapa offers an add-on service called domain privacy which reduced the spam and unwanted solicitations a domain owner may receive. The site registrar's information is associated with the account in the WHOIS database instead of the customer'. Hostpapa charges approximately $10/year for this service.
Does Hostpapa offer an Uptime Guarantee?
Uptime guarantee refers to how much time in a provided time, a hosting provider will keep your website and its infrastructure operating properly and connected to the internet. Hostpapa offers a 99.9% uptime guarantee, which means your site might be unavailable for just 10 minutes per week. There are a wide majority of people who are satisfied with the uptime guarantee of Hostpapa.
Hostpapa's Money-Back Guarantee
Hostpapa provides 100% customer satisfaction. However, unsatisfied site owners can request a refund anytime. Hostpapa offers a 30-day return policy according to which a customer's entire hosting fee will be refunded if the services are canceled with the first month of signup. But fees for setup, add-on services, domain registration, and transfer fees will be deducted from the refund.
Free Trial Policy of Hostpapa
Unfortunately, Hostpapa doesn't offer a free trial for any hosting or add-on services.
Hostpapa Free Shipping Policy
All the services and products of Hostpapa are available online, account details, login details, and company communications are sent to the account holder's email address.
FAQs - Hostpapa India Promo Code
Q1. Does Hostpapa charge any setup fees?
Ans: No, Hostpapa doesn't charge any setup fees for new hosting accounts.
Q2. How long does it take Hostpapa to set up an account after making payment?
Ans: After you make the payment, you will receive an email regarding your login details showing that your account has instantly been set up.
Q3. How to contact Hostpapa Customer Service?
Ans: Telephone Number: +1 (888) 959-7272
Email Address: support@hostpapasupport.com
Q4. Does Hostpapa do the Black Friday Sale?
Ans: Yes, Hostpapa offers Black Friday Deals which started on November 26 2021 where services are available at a discounted price.
Q5. Does Hostpapa do a Cyber Monday Sale?
Ans: Yes, Hostpapa offers Cyber Monday Deals which started on November 29 2021 with services at a discounted price.