HostPapa Black Friday Deals 2023: $0.95/m with Free Domain & SSL
Want to save money on buying hosting during Hostpapa Black Friday Deals 2023?
HostPapa is offering discounts of up to 90% off on shared hosting packages this Black Friday. This is a great opportunity to get a high-quality hosting package at an affordable price.
HostPapa offers a variety of web hosting plans to suit your needs. Whether you are looking for a basic plan or a more comprehensive package, they have a plan that will fit your budget.
All of their plans come with a free domain name and SSL certificate. This Black Friday, you can get their Starter plan for just $0.95/month.
Don't miss out on this great opportunity. Get started today and take advantage of their Black Friday deals.
Hostpapa Black Friday Deals 2023 Details
The Hostpapa Black Friday discount will go live on the 8th of November 2023 from 12:00 AM EST and end on the 29th of November 2023 at 11:59 PM EST. You can get all the benefits of this Black Friday Deal only at this time.
For a Limited period, you can get their shared hosting plans at just $0.95/month.
The Sale Starts on 8th November 2023 at 12 AM EST.
The Sale End on 29th November 2023 at 11:59 PM EST.
Get 90% off on the Start Plans at just $0.95/mo
Get Plus at just $2.95/mo instead of $10.95
Get Pro plans at just $2.95/mo instead of $10.95
Ultra plan at just $8.95/mo instead of $17.95.
Sale is applicable on 12 monthly plans only.
How to get HostPapa Black Friday and Cyber Monday Sale 2023?
To get HostPapa Black Friday and Cyber Monday Sale for 2023, simply follow these steps:
Visit the HostPapa website from our special affiliate link.
To get started, select your hosting plan and click the "Get Started" button.
Then, choose your preferred plan and click on the "Select" button then press on "Next Step" on this page.
In the next step, you will get order details. Hostpapa is offering some add-ons during checkout if you want you can enable these otherwise skip these. Scroll down to the bottom of the page and press the "Next Step" button.
If you choose the Pro plan then you can get all these addons for free.
On the next page, you will need to register your free domain name and click on the "Get My Domain" button.
Fill in your account details for your hosting account and click on the "Next Step" button.
Now you have to fill in your Payment information. You can pay using a credit card or Paypal. Once you enter your card number then click on the "Place Your Order" button.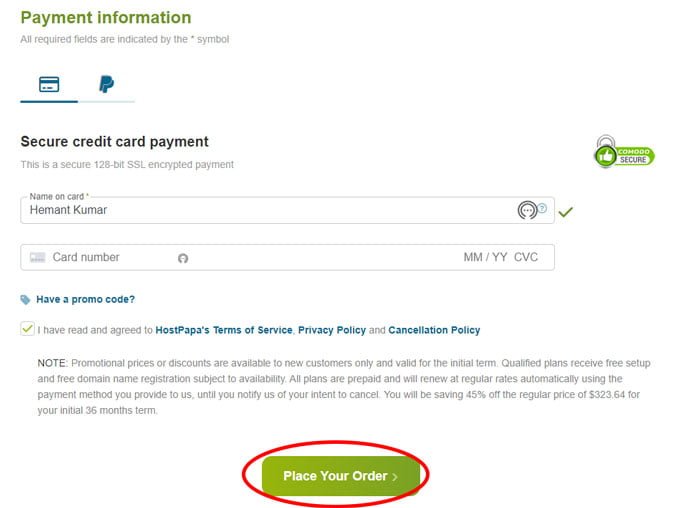 After purchasing, your hosting account will be activated.
HostPapa Pricing Plans During Black Friday Discount
Here we have provided the complete details about the plans for Hostpapa Black Friday Sale 2023.
HostPapa Shared Plan
Start Plan at just $0.95/mo or Rs. 76.95
Plus Plan at just $2.95/mo or Rs. 237.95
HostPapa WordPress Hosting
WP Start Plan at just $0.95/mo or Rs. 76.95
WP Plus Plan at just $2.95/mo or Rs. 237.95
HostPapa Reseller Hosting
Bronze at $29.99 & Silver Plan at $39.99
About the HostPapa Web Host
HostPapa is a Canadian web-hosting company that was founded in 2002. The company has since grown to become one of the largest web hosting providers in the world. Hostpapa powers a huge 500,000 websites worldwide. They offer a variety of web hosting services, including shared hosting, VPS hosting, dedicated servers, and reseller hosting. You can get a huge discount on this Black Friday Deal.
One of the things that set HostPapa apart from other competitors is its commitment to environmental sustainability. All of HostPapa's servers are powered by 100% renewable energy. The company also offsets its carbon emissions by planting trees.
Another thing that makes HostPapa stand out is its focus on customer service. The company offers 24/7/365 customer support via live chat, phone, and email. They also have a large knowledge base and video tutorials to help you with any hosting questions you may have.
If you're looking for a new hosting company, we recommend you check out HostPapa. With their commitment to environmental sustainability and excellent customer service, they're sure to be a great fit for you.
By this year you will get Hostpapa's Premium quality hosting at the cheap cost of just $1.75 per month on this Black Friday Sale. If you are looking to grab the highest discount during Hostpapa Sale, then you should buy their 3-year plan.
Don't worry about the extra charges for the domain. You will get the domain for absolutely FREE. This is why we state this as a huge discount as no other hosting provider offers this discount. This would be the best option to host your website.
Which Hosting Plan To Choose In HostPapa Black Friday Sale?
Hostpapa offers three different types of Hosting Plans for each type of hosting they Provide. They have 5 different types of web hosting Including:-
Web Hosting
Managed Shared Hosting
WordPress Hosting
VPS Hosting
Reseller Hosting
Among these, only the Reseller, Shared, and WordPress plans are eligible for Black Friday Deals. Every plan comprises 3 other hosting plans namely, Starter, Business, and Business PRO plans.
Starter Plan
With this plan, you can host up to two websites and you can get 1 domain name for free. In addition to this, you will also get 100GB of SSD Storage and Unmetered bandwidth.
This would be an ideal plan for beginners. People who have just started their online store can go with this plan. Hence select the good one.
These plans include the basic features like:-
FREE Website Transfer
FREE Cloudflare CDN
FREE One on One Training
Free SSL Certificate
Cpanel Control Panel
Starter Website Builder (2 Pages)
Softaculus with 400+ FREE apps
Cloud Linux servers
24/7 Support
99.9% Up-time
30 Days Money Back Guarantee
Business Plan
In this plan, you can get unlimited web hosting and a free domain name. In addition to this, you will get Unlimited SSD storage and Unlimited bandwidth.
This plan includes all the Starter plan features, plus extra features in the Business Plan, such as:
Unlimited Addon Domains
Unlimited Email Accounts
Unlimited MYSQL Database
2x More CPU and MySQL Resource
Business PRO Plan
This Business PRO plan is the best plan among the other 3 plans. You will get better features and extra modules that will improve your website to stand out and perform better.
It has all features of the Business plan and some additional features. In this plan, you can host unlimited websites and have free domain registration. In addition to this, you will get Unlimited SSD storage and Unlimited bandwidth.
In addition to all the above features, you will get more features like:-
Rocket Fast Servers
300% Performance Boost
Fewer Accounts Per Server
Website Builder Upgrade to Business Plan with 1000 Pages
4X more CPU and MYSQL Resources
Premium Wildcard SSL
Automated Website Backup
Protection Power PRO
Domain Privacy
4 Reasons Why Should You Choose HostPapa Hosting
There are many reasons to choose HostPapa as your web hosting provider. Here are four of the most important: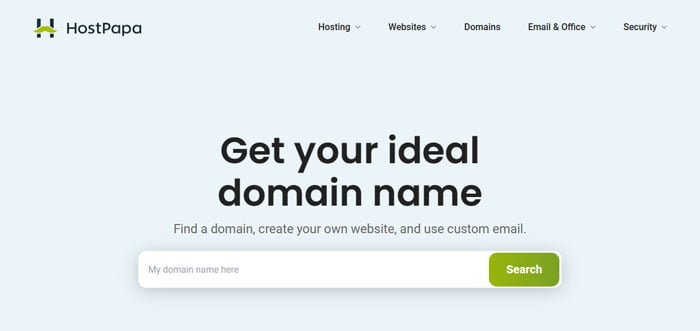 Fast SSD Hosting
These SSD hosting servers are faster than normal Hard disk hosting servers. Hence you will get the fastest speed possible with their hosting servers and there is no need to worry about the speed of your website or making your website speed optimized. Therefore, if you buy from Hostpapa it will be done for you. Hostpapa's server response time is as fast as 115ms. It is an amazing feature of Hostpapa.
The faster the response time faster will be the website loading time. Hence your website visitors spare less time to access your website.
Extremely Easy To Use Control Panel
A control panel is an important one in controlling your whole hosting account. You can control everything through the cPanel or control panel. A control panel should be easy to control to be used by everyone.
FREE Website Migration
If you already have a website with another hosting server and you want to transfer your website to Hostpapa, you will get that done with a Free website migration. You can buy the Hostpapa hosting plan and you can ask them to do your website migration within a few moments.
FREE Cloudflare CDN
Hostpapa provides a free Cloudflare CDN content delivery network. It speeds up the delivery of your website's content by caching it on servers around the world. This can improve your website's loading times, especially for visitors who are far from your server's location.
You don't have to do anything manually when you purchase any Hostpapa plan – they'll automatically integrate the CDN for you.
Faq about HostPapa Black Friday Offers
When will the HostPapa Black Friday 2023 Deals begin?
It will be live on 8th November and will end on 29th November.
Which Plan should you buy in HostPapa Black Friday?
You can select a starter plan if you need to host 1 or 2 websites. If you want to host more websites then go for a Business or PRO plan.
Is HostPapa a Trusted Hosting Company?
Hostpapa is a very good, trusted company in Canada. HostPapa powers more than 500000 websites for people across the globe.
Final Words on HostPapa Black Friday 2023
We gave all information about the Hostpapa Black Friday Deals. This will be the best hosting discount for you, as you are getting 12 months of premium quality hosting service at the cheap price of $0.95/mo. You won't find a discount like this, so grab this Deals Now.
*Related Content: