Ivacy VPN Lifetime Subscription 2022: 5-Year Plan at just $1.19/m (10 Devices)
It's no secret that online privacy is under attack. Government agencies and corporations are constantly collecting our data, and often without our consent or knowledge.
That's why it's more important than ever to use a VPN, which encrypts your internet traffic and makes it impossible for anyone to spy on your online activity.
And there's no better VPN than Ivacy, which is why we're excited to offer our readers a 5 year subscription for just $1.19/m ($71.64) with Free Premium Password Manager.
Disclaimer: Don't get confused about this deal! A lifetime subscription is actually a 5-year plan that has been promoted as lifetime.
The Ivacy VPN Lifetime Subscription gives you unlimited data and bandwidth, access to over 5700+ servers in 100+ locations, and military-grade 256-bit encryption. Ivacy is compatible with all major platforms and devices, so you can use it on your desktop, laptop, mobile device, and even your router.
With Ivacy, you can browse the internet anonymously, unblock geo-restricted content, and protect your data from hackers and snoopers. It is the best tool for P2P file-sharing with complete anonymity and blazing fast speeds. It is also one of the few VPNs that offer a Dedicated IP address. This means that your IP address is assigned exclusively to you and no one else can use it. They are offering it as an add-on, so you have to pay $1.99 per month if you want to use this feature.
Make sure you're getting the best possible deal on your Ivacy subscription by signing up for a lifetime subscription today. You'll not only get the VPN service at a discounted rate, but you'll also get the Add-On Ivacy NAT Firewall free forever. This Add-On will help block unrequested inbound traffic, prevent installing malware, and protect your personal information while you're connected to Ivacy VPN.
How to claim the Ivacy VPN Lifetime Discount Offer (5-Year Deal)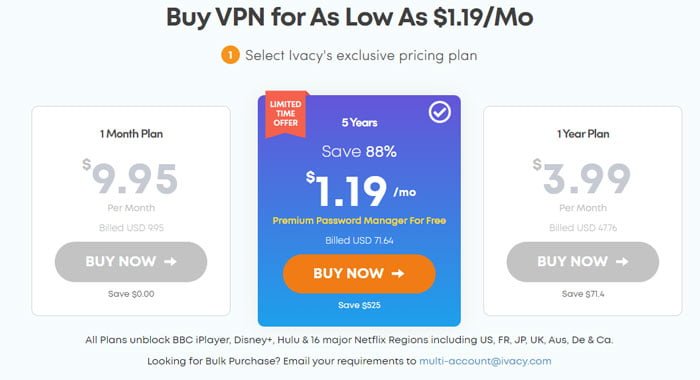 Follow the steps below to claim your discount.
Visit the Ivacy website and click on the "Subscribe Now" Button
Choose your preferred 5 Year VPN plan.
Create your new account using your email address
Choose security add-ons if you want to buy
Select payment method and enter our discount code in the "Coupon Code Box"
Click on the "Proceed to Payment" button
Ivacy is offering a 30-Days Money Back Guarantee with all plans, so if you are not satisfied with this VPN you can cancel within 1 month and get a full refund.
This exclusive offer is available for a limited time only, so sign up now to take advantage of it!
What are the Payment methods on Ivacy?
Ivacy has a lot of payment options for users, such as:
Paypal
Pay with Card
BitPay
Coingate
PerfectMoney
AliPay and lots more.
What are the benefits of the Ivacy VPN Lifetime Subscription Offer?
With a Ivacy lifetime subscription, you'll get:
Malware Protection
Advanced IPsec & IKEV Protocols
Smart Connect Feature
Unlimited Bandwidth
Military Grade 256-Bit Encryption
No Browsing Logs Policy
Internet Kill Switch
Split Tunneling
High Speed Downloading
5700+ Servers in 100+ Locations worldwide
P2P Support
Dedicated Kodi App
10 Devices Simultaneous Logins
Support all major platforms, including Windows, Mac, iOS, and Android.
The plan unblocks BBC iPlayer, Disney+, Hulu & 7 major Netflix regions, including US, FR, JP, UK, Aus, De, and Ca.
And much more! With a solid VPN. Ivacy VPN allows you to browse with ease and without the stress of worrying about a cyber attack.
Difference Between Ivacy VPN 5-Year Subscription Plans vs other plans
When it comes to online privacy, there is no one-size-fits-all solution. That's why Ivacy offers a variety of subscription plans to choose from. But what's the difference between the 5-year subscription plan and the other plans?
Here's a quick rundown of the key differences:
5-year subscription plan:
Save up to 88% off the monthly price and get it at just $71.64.
Get 5 years of coverage for the price of 1 – Save $525
Ideal for long-term privacy protection
Other plans:
1 month plan is available at $9.95 per month
1-year plan is available at $3.99/m, Yearly $47.76.
Save $71.4 on annual billing
shorter terms are available for those who need it
So, which plan is right for you? If you're looking for the best value for your money, the 5-year subscription plan is the way to go.
But if you don't need that much coverage, or if you only need it for a short period of time, the other plans may be a better fit for you. Shorter terms are available at a lower price, and you can still save up to 66% off the monthly price.
Ivacy VPN Alternative's Lifetime Deal
Frequently Asked Questions
How much does Ivacy VPN cost?
The Ivacy pricing plans start at $9.95 per month, but you can save up to 88% off the monthly price by signing up for a 5-year subscription plan.
Which VPN is a lifetime?
Actually, No VPN provider is offering a lifetime deal. They are offering subscriptions for 5 years. You have to renew it again after 5 years.
Can I use Ivacy VPN on multiple devices?
Yes, you can use Ivacy on multiple devices with a single account. You can connect up to 10 devices at the same time.
Is Ivacy VPN legitimate?
Yes, Ivacy is a legitimate service. It is one of the leading VPN providers in the world.