Cloudways Black Friday Deals 2023: Flat 40% Discount for 4 months
Are you looking for the Cloudways Black Friday Deals?
If yes, you are in the right place.
Cloudways is offering a huge discount of 40% for the first 4 months plus up to 30 free migrations using the coupon code BFCM4030. You will get this discount on the premium cloud hosting service only once a year.
So don't wait – get your discounted hosting plan today!
Cloudways Black Friday Deals 2023 – 40% OFF for 4 Months
Cloudways sale will start on November 14th, at 12:00 AM EST, and will last until December 1st, 2023 at 11:59 PM EST.
Object Cache Pro plugin (worth $95) is now integrated into the platform for FREE for all WordPress site users with plans of 2GB RAM and above.
Here we are going to give you the complete information about all the Cloudways plans and the discount during Black Friday.
| Platforms | Plans (Standard Price) | Discounted Price |
| --- | --- | --- |
| Digital Oceans | $10 | $6 |
| Vultr | $11 | $6.60 |
| Linode | $12 | $7.20 |
| AWS | $36.51 | $21.91 |
| Google Cloud | $33.18 | $19.91 |
How To Activate Cloudways Black Friday 2023 Deals?
Here's how to activate Cloudways Black Friday deals:
You can avail of the 40% Discount by clicking on this link.
Then you will land on the Cloudways platform home page.
Click on the "Get 40% off for 4 months" button and it will redirect you to the signup page.
You have to provide some basic account information. Then you have to enter our exclusive Cloudways black Friday coupon code (BFCM4030) in the "Got a Promo Code" section.
After successfully applying the code, just click on the "Start Free" button.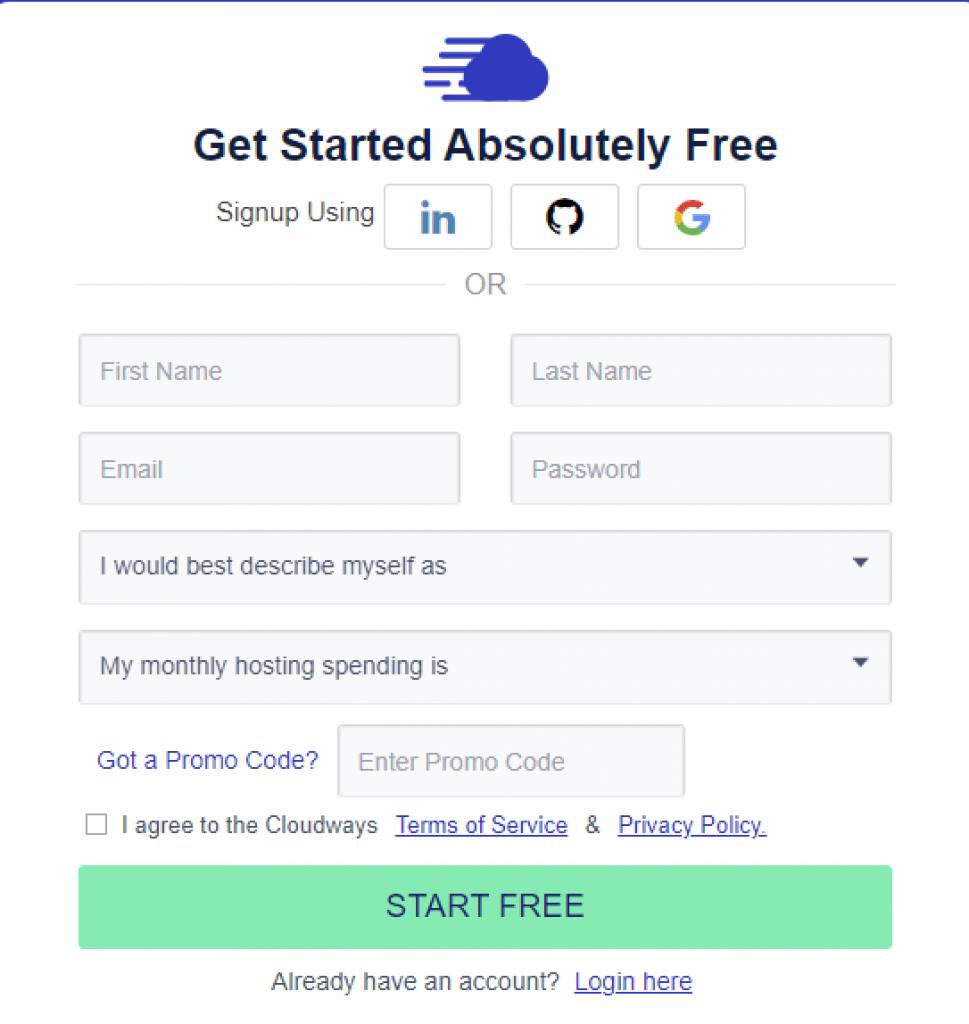 Congrats on your registration! Now that you have successfully activated your discount on Cloudways, enjoy your savings!
Features of Cloudways Hosting
Here are some of the most notable features of Cloudways Hosting:
Cloudflare Enterprise CDN
Build in Advanced Caches (Varnish, Nginx, Redis, and Memcached)
Auto Healing Managed Cloud Servers
Free Magento Full Page Cache
Http/3 support with Cloudflare
Bot Protection
Advanced DDoS Protection & WAF with Cloudflare
Staging Area
Free Site Migration
PHP 8.x Ready Servers
24×7 Real-Time Monitoring
Unlimited Applications
1-click backup & restore
60+ Global data centers
Why Choose Cloudways?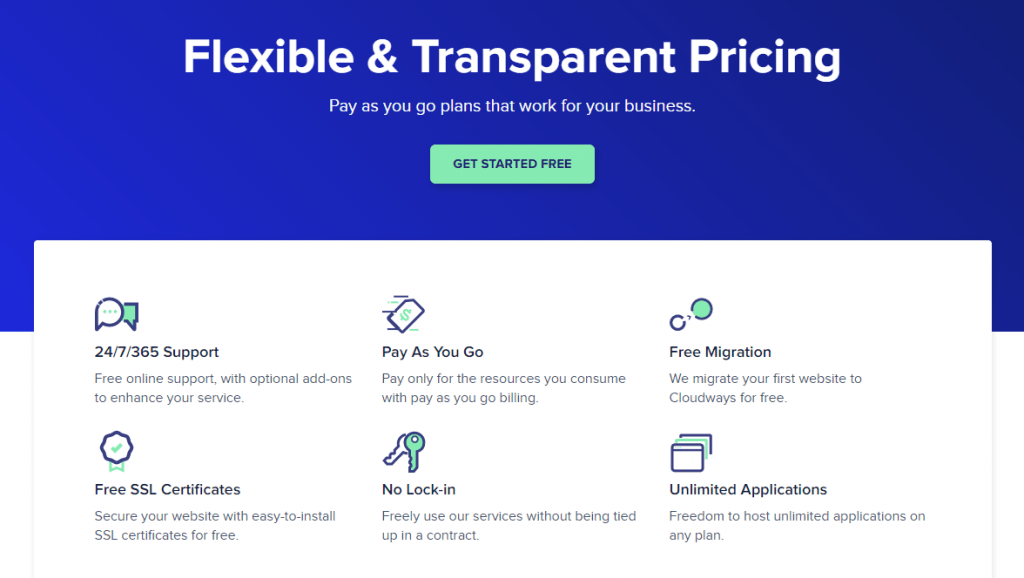 Here are just a few of the reasons why I choose Cloudways during this sale.
Scalable hosting plans: Cloudways offers scalable hosting plans that can be customized to meet the needs of any business. This makes it a great choice for businesses that are growing or have fluctuating needs.
Reliable and high-performance: Your website is guaranteed to be operational at all times thanks to our top-quality and highly dependable infrastructure.
Easy to use: Cloudways is designed to be easy to use, so you can get your website up and running quickly and without any headaches.
Great customer support: They offer 24/7 Live chat customer support, so you can always get help when you need it.
Free trial: Cloudways offers a 3-day free trial so you can try out the platform before you commit to it.
Cloudflare Enterprise CDN addon: Cloudways is one of the few hosting platforms that offer the Cloudflare Enterprise CDN addon. This addon can help you speed up your website's loading times by up to 50%. You can get this add-on at just $4.99 per month on one site.
SSD-Based Hosting: Cloudways uses an SSD-based hosting server, which is much faster than traditional HDD-based hosting. This means that your website will load faster, which is important for both your visitors and for search engine optimization (SEO).
Up to 30 Free Site Migrations: Another great reason to switch to Cloudways is that they're offering up to 30 free site migrations. So if you're currently using another hosting provider and are thinking about switching all of your websites to Cloudways, now is a great time to do it.
If you're looking for a reliable and high-performing hosting company, Cloudways is a great choice.
With over 1400+ positive reviews on Trustpilot, and 300+ reviews on G2. Cloudways is one of the most trusted cloud hosting providers in the industry.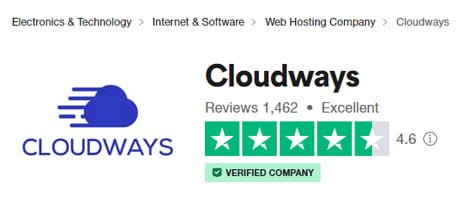 Cloudways Pricing
Cloudways offers a variety of flexible and affordable pricing plans to suit the needs of any business. Whether you're just getting started or are looking to scale your operation, they have a plan that's right for you.
Their pay-as-you-go model means you only pay for the resources you use, so you can keep your costs down as your business grows. And their simple, intuitive interface makes it easy to manage your cloud resources, so you can focus on your business, not your infrastructure.
Cloudways is offering plans from 5 different IaaS providers, with starting prices ranging from $10/month to $36.51/month, which can go up to $3569.98/m.
Digital Ocean – Starting at $6/mo instead of $10 normally, it comes with 1 GB RAM, 1 Core Processor, 25 GB Storage, and 1 TB Bandwidth.
Linode – Starting at $7.20/mo instead of $12, it comes with the same configuration as Digital Ocean.
Vultr – Starting at $6.60/mo instead of $11, it comes with 1 GB RAM, 1 Core Processor, 32 GB Storage, and 1 TB Bandwidth.
Amazon Web Services – Starting at $21.91/mo instead of $36.51, it comes with 2 GB RAM, 2 Core Processors, 20 GB Storage, 2 GB Bandwidth, and Free Object Cache Pro.
Google Cloud – Starting at $19.91/mo instead of $33.30, it comes with 1.70GB RAM, 1 Core Processor, 20GB Storage, and 2GB Bandwidth.
Cloudways recently launched Cloudflare Enterprise Addons. This is an extra service that is not included in the standard pricing. If you want to boost your website performance globally, and want enterprise-grade security and advanced CDN, you have to pay an extra $4.99 per site, but if you want it on multiple websites then you can get it for just $1.99 per site.
FAQs on Cloudways Black Friday Sale
How much does Cloudways cost?
Cloudways is a cloud hosting platform that is managed and provides a pricing model that is pay-as-you-go. This implies that you are only charged for the resources you utilize, and you have the flexibility to scale up or down based on your requirements. Its basic plan starts from $6 per month, which is the best Cloudways plan for beginners.
Is Cloudways worth it?
Yes, Cloudways is definitely worth it! They offer amazing service with great support, and their prices are very reasonable. With a wide range of features and a user-friendly interface, Cloudways is a great choice for those looking to take their business to the next level.
Does Cloudways Offer FREE Website Migration?
Yes, Cloudways offers free website migration as a part of their services. They will help you move your website to their platform with no downtime and no data loss. If you want to move your site yourself, you can use the Cloudways WP migrator WordPress Plugin.
Is CloudWays providing a free SSL certificate on all Plans?
Yes, you can activate free SSL in your all plans.
Final Thought
A cloud-managed hosting service like Cloudways can help your website rank higher in organic search engine results, so go for it.
Some of the features of this high-performance managed hosting include excellent server response time, zero downtime, premium support, pay-as-you-go pricing plans, self-migration, and an affordable CDN.
If you're a serious blogger who wants to make a name for yourself, this Cloudways is the perfect choice for you.
A low-budget blogger or business startup can take advantage of this Cloudways Black Friday Deals and Cyber Monday Sale to purchase a high-quality hosting account.
Use the coupon code (BFCM4030) to get a 40% discount for four months and host your site on a premium server!
Finally, keep an eye on the site's performance. I'm confident that migrating from shared hosting to a dedicated one would have a significant impact on your organic rankings.
What do you think of this managed hosting service and its Black Friday discounts?
Leave your thoughts in the comments section.
Other Amazing Black Friday Cyber Monday Web Hosting Deals