Welcome to The Nexcess Black Friday 2023 Deals / Cyber Monday Sale.
You can get a whopping 75% off on any managed hosting plan for the first 4 months using our coupon code (BF23SAVE754MO) from 1st to 30th November! Usually, Nexcess provides a 30-50% discount for 3 months. So Don't miss out on this great deal!
Nexcess Black Friday Deals 2023 – Details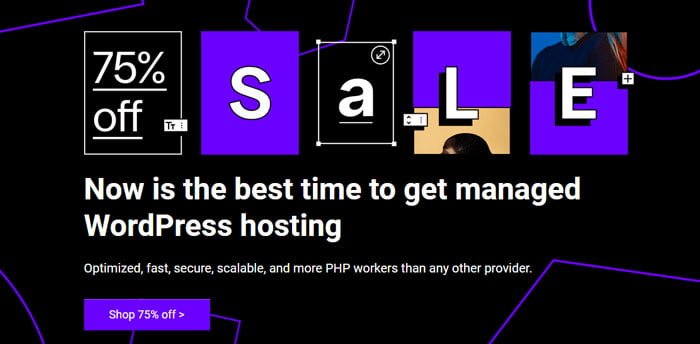 Monthly Plan Discount
Get a 75 percent discount for 4 months on Managed WordPress hosting, WooCommerce hosting, StoreBuilder, and Magento hosting plans.
Sale dates are from 1st November to 30th November 2023.
Use our Nexcess discount coupon (BF23SAVE754MO) to avail of this offer.
Annual Plan Discount
Flat 17% off + 2 months Free on choosing an annual plan subscription
All Nexcess web hosting plans include free Migrations and a 30-day Money Back Guarantee.
Nexcess Black Friday 2023 Pricing
Nexcess is offering up to 75% monthly discount on all managed hosting purchases during the Black Friday and Cyber Monday deals. Let's explore all the plan pricing:
Nexcess WordPress Hosting Plans
Nexcess is providing its WordPress plan starting from $5.25/mo, in which you can host up to 250 websites. Its highest plan price during the sale is $273.75/mo. Use our exclusive promo code – BF23SAVE754MO, at the checkout of Nexcess hosting.
Spark: $5.25 ($21.00)
Spark+: $10.75 ($43.00)
Maker: $21.75 ($87.00)
Designer: $30.00 ($120.00)
Builder: $41.00 ($164.00)
Producer: $82.00 ($328.00)
Executive: $150.50 ($602.00)
Enterprise: $273.75 ($1095.00)
What you will get with each WordPress plan
Spark
1 Site
15GB storage
2TB bandwidth
10 PHP workers per site
20 autoscaled PHP workers per site
24/7/365 WordPress support
30-day money-back guarantee
Disaster recovery assistance
Spark+
3 Sites
25GB storage
2.5TB bandwidth
15 PHP workers per site
25 autoscaled PHP workers per site
Maker
5 Sites
40GB storage
3TB bandwidth
20 PHP workers per site
30 autoscaled PHP workers per site
Designer
10 Sites
60GB storage
4TB bandwidth
20 PHP workers per site
30 autoscaled PHP workers per site
Builder
25 Sites
100GB storage
5TB bandwidth
30 PHP workers per site
40 autoscaled PHP workers per site
Producer
50 Sites
300GB storage
5TB bandwidth
40 PHP workers per site
50 autoscaled PHP workers per site
Executive
100 Sites
500GB storage
10TB bandwidth
50 PHP workers per site
60 autoscaled PHP workers per site
Enterprise
250 Sites
800GB storage
10TB bandwidth
60 PHP workers per site
70 autoscaled PHP workers per site
Managed WooCommerce Hosting Plans
Regular Price: $21/mo
Black Friday Deal Price starting from $5.25/mo
Coupon Code: BF23SAVE754MO
Exclusive link: Visit Here
Managed Magento Hosting Plans
Regular Price: $62/mo
Black Friday Deal Price starting from $15.50/mo
Coupon Code: BF23SAVE754MO
Exclusive link: Visit Here
How to Get Nexcess Black Friday Discount 2023?
Here, we'll show you how to activate the Nexcess Black Friday Cyber Monday Deal for 2023.
Let's get started!
Step 1 – The first thing you must do is head to the Nexcess managed hosting website.
Step 2 – Once there, choose your preferred plan from the Pricing menu at the top of the page.
Step 3 – It will show you all your plans with a black Friday discount.
Step 4 – Now click on your suitable plan's "Get Started" button.
Step 5 – Click on that, and you'll be taken to the Nexcess checkout page.
Step 6 – Nexcess Black Friday Coupon Code will be automatically applied at the checkout if you use our exclusive link.
Step 7 – Enter your information and make the payment.
Why Should I Choose Nexcess Hosting?
Here are just a few reasons:
1. Lightning-Fast Load Times
Nexcess has built its reputation on providing ultra-fast hosting services. Their platform is designed for speed and performance from the ground up. It is a powerful and versatile platform compatible with PHP 7 and 8. It includes the Nexcess CDN for fast and reliable content delivery, image compression for smaller file sizes, and image lazy loading for faster loading times.
The cloud accelerator speeds up your website by delivering content from our global network of servers, and the Object Cache Pro helps improve performance by caching frequently accessed data. The container add-ons provide additional functionality and flexibility, and the Plugin Performance Monitor helps you monitor your website's performance.
2. 24/7/365 Expert Support
No matter what time of day or night, you can always count on Nexcess to be there for you. Their team of experts is available 24/7/365 to help you with any issue.
3. Robust Security
Nexcess takes security seriously. They offer a wide range of security features to keep your site safe, including firewalls, DDoS protection, and malware scanning. As well as they are offering Free iThemes Security Pro for all plans.
4. Free SSLs
All Nexcess hosting plans come with free SSL certificates. This is important for two reasons. First, it helps to keep your site safe. Second, it helps to boost your search engine rankings.
5. Daily Backups
Nexcess automatically backs up your site every day for 30 days. This way, you can rest assured that your data is always safe.
6. Worldwide CDN
Nexcess's worldwide CDN helps ensure that your site is always fast, no matter where your visitors are.
7. Auto Scaling
Nexcess's auto-scaling feature ensures that your site can handle sudden spikes in traffic. This is important for sites that experience seasonal traffic spikes or unexpected surges.
There are many other reasons to choose Nexcess as your web hosting provider. But these are just a few of the highlights. If you're looking for a reliable, fast, and secure web host, Nexcess is an excellent choice.
To take advantage of the Black Friday sale, visit Nexcess.net today. This offer is valid for a limited time only.
Pros and Cons of Nexcess Hosting
Pros
Free site migration
30 days money back guarantee
Free Premium plugins
Robust Infrastructure
Excellent Customer Support
Flat 75% Off during the Black Friday
FAQs related to Nexcess Black Friday Sale 2023