NameCheap Black Friday Deals are back for 2023, and they're bigger and better than ever. Get up to 97 percent off domains, web hosting, VPNs, SSLs, professional email hosting, and managed WordPress hosting from 25th November to 4th December 2023.
So whether you're looking for a new domain name, web hosting, or a way to secure your website with an SSL certificate, NameCheap has you covered.
Check out some of the best deals below and start planning your Black Friday shopping today!
Namecheap Black Friday Deals 2023 – Details
Namecheap is offering up to 97% huge discount on all services.
Web Hosting Plans: Up to 76% Off
Professional Email: Up to 65% Off
Domain Name Registration: Up to 97% Off
Domain Transfer: Up to 43% Off (BFCMTR22)
Web Security/VPN: Up to 74% Off
SSLs: Up to 35% Off
Renewal: Up to 21% Off
The sale will run from 25th November to 4th December 2023.
The Black Friday deals include top savings and discounts on:
Domains Discount during Namecheap Black Friday 2023 Deals
Domain & PremiumDNS deals: Take advantage of incredible savings on a broad range of popular top-level domains (including the all-powerful .com) and big savings on PremiumDNS. Free lifetime privacy protection is included in each of the eligible TLDs.
Top TLDs for a website identity.
37% off .com — $9.48 only $5.98;
50% off .org — $12.98 only $6.48;
88% off .biz — $15.98 only $1.98;
97% off .online — $32.98 only $0.98;
96% off .site — $25.98 only $0.98;
92% off .design — $42.98 only $3.48;
90% off .me — $18.98 only $1.98.
Domain Name Registration Offer: These deals and more domain savings are available when you use the promo code BFCMTLD21 at checkout.
Domain Transfer Offer: Customers who move their domains from previous providers to Namecheap may save up to 43% on various TLDs by using the promo code BFCMTR21.
If you missed Black Friday Deal then Still you can save big amount of money using our Namecheap Promo Codes from here.
Namecheap Hosting Plan During Sale
Web hosting deals
Get the best deals on shared hosting plans from Stellar, EasyWP, and more. To top it all off, Professional Email's email hosting plans are quite affordable.
Stellar US — $49.88 $11.88 — save 72%
Stellar Plus US — $68.88 $19.88 — save 71%
Stellar Business US — $108.88 $33.88 — save 71%
Stellar EU — $61.88 $23.88 — save 56%
Stellar Plus EU — $80.88 $31.88 — save 61%
Stellar Business EU — $120.88 $45.88 — save 64%
To purchase the deal on shared hosting, customers should apply promo code BFCMSHARED22.
WordPress Hosting Deals
For all WordPress lovers, Namecheap is also offering incredible deals on EasyWP — the fastest Managed WordPress hosting on the market. Offers include up to 73% on yearly plans or free monthly trials. No promo code is required.
EasyWP Starter: $48.88 $14.88/yr – save 70%
EasyWP Turbo: $94.88 $28.88/yr – save 70%.
EasyWP Supersonic: $114.88 $34.88/yr – save 70%.
Namecheap provides up to 100 GB SSD storage, a free domain name, 500k visitors/month, CPU, RAM, and 99.99% uptime guarantee, Free CDN, and Free SSL for EasyWP WordPress hosting plans.
VPS Hosting Deals
Save up to 51% on VPS Hosting using coupon code BFCMVPS22.
PULSAR plan: $4.88/mo (Save 51%)
Quasar plan: $10.88/mo (Save 31%)
Magnetar plan: $21.88/mo (Save 24%)
Namecheap SSL Offers

You can save up to 35% off SSL certificates when you purchase a 2-5 year plan – use promo code BFCMSSL22.
PositiveSSL plan: $4.20/yr instead of $5.99
PositiveSSL Multi-domain plan: $17.55/yr instead of $19.50
PositiveSSL Wildcard: $32.99/yr instead of $39.99
InstantSSL plan: $15.99/yr instead of $19.99
EV SSL plan: $29.99/yr instead of $45.99
Namecheap FastVPN Offer
You can now get a FastVPN annual subscription for only $8.88. That's a 74% savings off the regular price of $34.56. And if you sign up for a monthly plan, you'll get the first month free. So there's never been a better time to start protecting your online activity and staying anonymous.
FastVPN is the fastest and most secure VPN service, so you can rest assured that your browsing is safe from prying eyes. Sign up now and start protecting your privacy.
Namecheap Professional Email Hosting Offer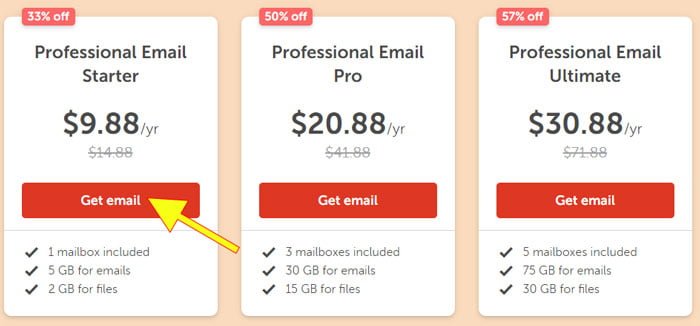 There's also the chance to grab a professional domain-based email address for a 57% discount using the promo code BFCMEMAIL22.
Starter plan: $9.88/mo (Save 33%)
Pro plan: $20.88/mo (Save 50%)
Ultimate plan: $30.88/mo (Save 57%)
Namecheap RelateSocial Offer
Essential Plan: $18.88 for the first year then $28.88.
Pro Plan: $48.88 for the first year then $98.88.
RelateSocial is a social media management tool that offers users unlimited scheduled posts, 15 social channels, and support for Facebook, Google Business Profile, Twitter, Instagram, and LinkedIn. With its easy-to-use interface and comprehensive features, RelateSocial is an ideal tool for small businesses and solopreneurs who want to get the most out of their social media presence.
How do you avail of this Namecheap Black Friday Sale 2023?
Visit the Namecheap website from our above buttons.
Choose your preferred product or plan.
Proceed to checkout.
Pay using any method.
FAQs on Namecheap Black Friday Offers
When does Namecheap's Black Friday & Cyber Monday sale begin?
Namecheap's 2023 Black Friday and Cyber Monday sale begins at 12 AM ET on Friday, November 25, and runs until 4th December 2023.
What discounts are available during the Namecheap Black Friday Sale?
Namecheap offers up to 97 percent discounts on domain registration, hosting plans, SSL certificates, and more.
What if I am not happy with Namecheap hosting services?
If you're not happy with Namecheap hosting services then you can try contacting customer support and explaining your situation. They may be able to help you resolve the issue or offer a refund.
Are there any renewal discounts?
Yes, they are offering a 21% discount on the renewal of domains and hosting.
Final Thoughts on Namecheap Black Friday 2023 Sale
Namecheap offers a 97% discount on domains and hosting plans this Black Friday! Namecheap is one of the best domain name registrars, managing over 10.5 million domains. It is also known for cheap-priced hosting. So if you are a beginner and your budget is tight, I recommend you to go with Namecheap hosting plans.
Let me know in the comment section below if you want to know anything about Namecheap Black Friday 2023.