Mehndi and Makeup are the two basic needs for Karwa Chauth. As we all know karwa Chauth is round the corner. This is an auspicious day celebrated by married women for the long life of their husbands. The day is full of happiness and getting ready. The woman dress and fasts for the whole day.
What is better than stepping up your makeup and Mehndi game this year. It is important to look good especially when the whole day is for you. Makeup and Mehndi are the basic styling component of your look.
Mehendi is also considered as bodingly for married women so women have to apply Mehendi as this is an important tradition attach to karwa Chauth. Makeup is something that gives you more confidence and a radiant face. It adds sparks to your face. Makeup steps up your looks and gives that extra glow and edge. It is important to know both the mehndi design you are going to prefer and makeup tricks so that you save time on both.
Mehndi Design
It is important to come up with some interesting ideas and creative designs for your Mehendi. The stain should look beautiful and dark. It does happen using the chemical Mehendi cones one may get the colour for two to three days. It then the stain stars fading of or ripping aways leaving strands like residue.
Always go for herbal mehndi cones which don't leave that dark stains and leave a natural colour. Make sure you purchase a herbal cone. Keep in mind what kind of mehndi design you will go for according to your preferences. You can see more mehndi designs here.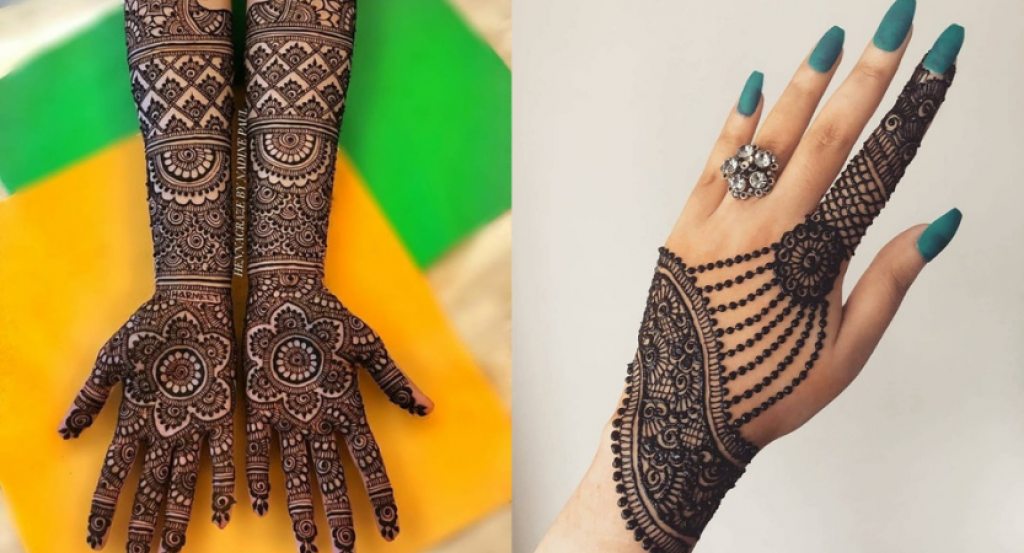 Makeup hacks and tricks for Karwa Chauth (day and night)
As discussed above makeup gives an edge to your looks. Also, this will be a budget series. This will help you make a kit in the budget that will be multipurpose for you. You have a variety of options to play and create a look with. This makeup guide will help you to choose the perfect makeup for this Karwa Chauth.
Makeup kit for Karwa Chauth
It is important to have a basic makeup kit for yourself. The basic makeup kit should have a foundation concealer. A palette that will solve the purpose of eyeshadow, blush, contour, and highlighter. Also the setting powder and lipstick.
Karwa Chauth Makeup look for day time
For daytime go subtle with your face base so that it doesn't look over and made up.
Apply foundation in a less amount just to give an even face tone.
Set the face with setting powder.
Apply a bit of blush on your cheeks and a little bit on the nose.
Finally, apply a nude lipstick.
You don't need anything more than this for the daytime a little highlighter can work max to max overall this is good.
Night Time makeup look for Karwa Chauth
Go a bit more with foundation this time and make it a full coverage base.
Apply concealer under eyes, on the bridge of the nose and forehead. Blend the concealer properly using a beauty sponge.
Set the face with setting powder and set the foundation and concealer.
Take blush and apply them on your cheeks blend them. Blush is important as fasting the whole day will result in a paler face. To give your face a flush of pink you need a pink blush or any colour blush that suits your skin tone.
For eyeshadow takes a brown shade and apply on the lid blend it and then apply golden eyeshadow to give a spark.
Apply kajal, mascara, and a liner and make your brows. Never forget your brows as they sculpt your face.
Apply red lipstick and complete the look by applying sindoor.
During the night you can go for a heavy look at Karwa Chauth.
Read More