There is seldom a sight more beautiful than a girl in traditional Indian wear. However, sarees may not be everyone's cup of tea. If you are looking to revamp your wardrobe and try to shop for some Indian attires, a Kurti is undoubtedly one of the top choices. A Kurta is the best mix of comfort and style. There are so many styles of Kurtas and there are so many Kurti neck designs that you can experiment with to find out what suits you the best. In case you are confused about where to begin, we bring you a list of the 25 latest Kurti neck designs so that you can find one that flatters you the most!
Top Kurti Neck Design Front & Back in 2022
1. Scooped V Neckline Kurta
A scooped V neckline is one of the most flattering necklines, especially in Kurtis. This neckline shows off your collar bones and gives you a dainty look, without showing off to much skin. This Kurti is also cut out in an A-line style, which gives you a flattering shape and has a slimming effect. This is perfect for everyday use.
2. Boat Neck Kurti
A Boat Neck is all the rage right now, be it in Kurtis or Sarees, and for all the right reasons. This neckline is the perfect mashup of traditional and modern. It stops closer to your neck than a typical round neckline, and puts all the highlight on your collar bones, giving you a very feminine look. This neckline pulls attention to the jawline and is very flattering on people with a heavier chest and broad shoulders.
3. Sweetheart Neck Design
This neckline resembles the top of a heart, earning it its name. This is one of the most common and most flattering necklines out there, and it looks beautiful on all women, regardless of body size, shape, or body type. It works equally well for women with both a smaller bust and a bigger bust. This is one of the most universal and beautiful necklines in the fashion world. This Kurti is made to slightly cinch at the waist, which gives it a more structured and slimming look, which in turn gives you a beautiful shape.
4. Scooped Neck Kurti
A scoop neck is one of the most universally loved necklines and is considered one of the best Kurti neck designs. It is a deep U-shaped cut neckline that gives you the illusion of a deep neckline without actually being too deep. This is ideal for being who want to experiment with a deep neckline but are not sure how bold a neckline will suit them. This is especially flattering for people with a smaller bust and narrow shoulders and gives you a very feminine look.
5. Notched Neckline with Zipped Back
If you are someone that is not comfortable with a deep neckline, or just trying to experiment with a more unconventional neckline, then a notched neckline is sure to spike your interest. A notched neckline resembles a high neck design, but it ends at the nape of your neck. This gives you a more structured look and makes you look taller. This neckline is perfect for those with a broad shoulder and a heavier bust, as it balances everything out and makes you look very feminine without showing any skin. This Kurti is in an Anarkali style that is very loved and flattering, and it also comes with a concealed zipper at the back that makes the Kurti fit you better and hugs your curves well.
6. Regular Collared Kurti
Collars are typically a style seen in shirts and T-shirts, but this trend is changing quickly. Collars are becoming more and more popular in Indian wear, be it blouses or kurtas. This Kurta is an A-line Kurti, which is known to add more structure and grace to your clothing. The collared neckline helps in adding a little formal touch and helps you look more put together. This neckline style is especially best suited for people with a heavier bust.
7. Tie-Up Kurti
Some people say that they prefer comfort over style, but our question is why compromise on either when you can have both? Tie-up Kurtis is one style that is extremely comfortable to wear, and the ties give it an extra oomph that is sure to grab some attention. Kurtis with a tie-up neckline are extremely flattering to people of every body shape and size, and also give you a sophisticated look without trying too hard.
8. Keyhole Design Kurti
A Keyhole Neckline Design is ideal for people who are keen to experiment with their necklines but are not looking for anything too bold. This keyhole neckline is a very feminine and flattering style and makes you look more graceful and put together without any effort at all.
9. V Neck Angrakha Kurti
An Angrakha Kurti is a classic style, and adding a V neck to it takes its fashion game up a few notches. The V neckline is universally flattering, and it pulls the attention and highlights the best features while making you look extremely feminine and dainty without showing off much skin. It is ideal for people wanting to look their best without trying too hard. This is also one of the best Kurti neck designs in trend.
10. Round Neck Kurti
The round-back neck design is probably the most common and loved neckline. It is universally flattering for people of all body shapes, body types, and body sizes, which explains its popularity. This Kurti comes with a round neckline and a flared body shape, that is extremely comfortable to wear and looks flattering without putting in any effort at all.
11. Halter Neck Kurti with Keyhole Back
A halter neck is another neck design that is typically seen in western wear, but it is gaining popularity rapidly in the Indian wear market. A halter neck has the ability to instantly make even a drab Kurti look stylish in seconds without much changes at all. This beautiful halter neck Kurti is monochrome and comes with a keyhole design at the back that gives it a very flattering and dainty look.
12. Shirt Collar Kurti
If you like collared Kurtis, you are sure to love this shirt collared Kurti style. This neckline is not only flattering but is also perfect for more formal settings like office meetings. It is definitely one of the more unconventional designs and is sure to grab your attention when you walk into a room.
13. Halter Neck Kurti with Small Keyhole
This style of neckline is a more fashionable twist to the original halter neck design. The halter neck gives the Kurti a modern touch, while the keyhole design adds a bold factor to it. To add to the fashion game, this Kurti comes with a slight embellishment on the halter neck, and also has an open-back design, which instantly makes it more appealing.
14. Square Neck Kurti
A square neckline is one design that is somewhat new in the Kurti neck designs, but regardless of its time of origin, it is an extremely flattering and widely loved neckline on Kurtis. It highlights your collar bones and pulls the attention to your neck, and gives your outfit a more feminine touch and a sophisticated look. This Kurti has a square neckline and is sleeveless, which makes it not only extremely flattering but also undeniably comfortable to wear.
15. Flared Square Neck Kurti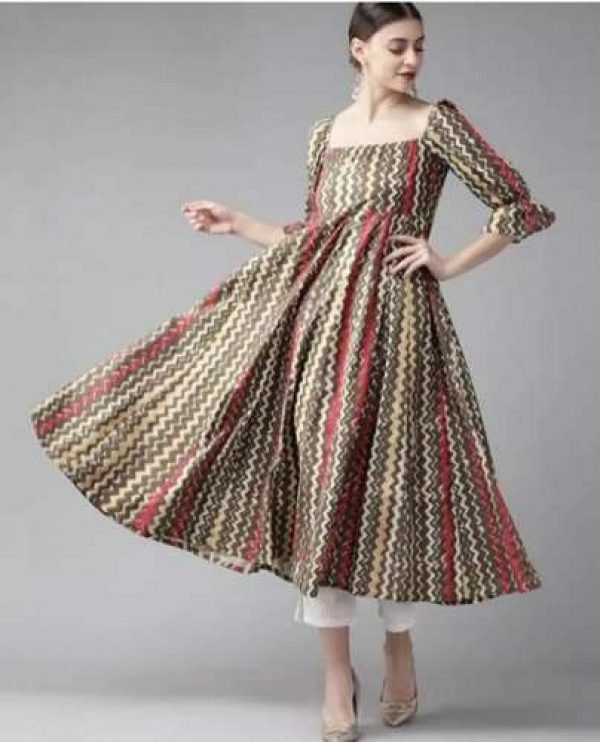 This neckline is especially best suited for people who want to try the square neck design but want to add a fun little touch to it. The flared square neckline is extremely popular, both in western wear and Indian wear, and it suits people universally. This Kurti has a flared square neckline and the overall structure of the Kurti is sure to amp up your fashion game in minutes.
16. Closed Neck Kurti
A closed neck design is perfect for people who want to look fashionable and put together, without showing too much skin. It is known to give you a more elongated look and make you look more dainty and feminine in a fraction of second. This Kurti has a closed neck design and a flared fit, which makes it ideal for both fashion and comfort.
17. Partially Scooped Neck Kurti
If you are someone that is particularly fond of the scooped neckline, but not a big fan of the amount of skin it shows, then the partially scooped neckline is perfect for you. This neckline is similar to the scooped neckline, but it ends a little above the scooped neckline, which makes it more popular among people who want to try the scooped neckline without looking too bold. This Kurti has a partially scooped neckline, and also some work around the neckline which makes it very dainty. It is in an Anarkali form, which is widely popular and loved by all.
18. Off Shoulder Kurti
The off-shoulder Kurti is the perfect mix of Indian and Western clothing styles. It shows off your shoulders and collar bones, and highlights them, giving you a very feminine touch without much effort at all. This Kurti has an off-shoulder neckline, and an A-Line shape, which is extremely comfortable to wear and fashionable too. The flared arms are like the cherry on top!
19. Collared and Layered Kurti
Another variation of the much-loved collared Kurti design is the Collared and Layered Kurti. These Kurtis come with a collared neckline and have an extra layer on top, which gives it a wow factor, and ensures that you stand out of the crowd effortlessly. It adds a touch of femininity and grace to your clothing instantly and is extremely flattering.
20. Surplice Neckline and Tie at Back Kurti
If you are someone that likes the V neckline, then you are sure to love the Surplice neckline too. The surplice neckline is similar to the V neckline, but it adds a more feminine and dainty touch to your Kurti. This Kurti has a surplice neckline, and the tie at the back instantly makes it much more graceful and gorgeous.
21. Boat Neck Kurti with Cold Shoulder
The boat neckline is a classic neck design, and adding a cold shoulder design to it is a formula for fashion success! Boat neck designs are known for their ability to add a feminine touch to your clothing while looking extremely modest, and the cold shoulder design shows off just a little bit of your skin, resulting in an extremely well-balanced outfit.
22. Round Neckline with Keyhole Kurti
A round neck design is one of the most basic, but also one of the most popular Kurti neck designs in the fashion world. Adding a simple keyhole design to a round neckline makes it more fashionable and flattering instantly, and gives it a more graceful and flattering look.
23. One Shoulder Kurti
The one-shoulder Kurti is one of the newest trends in Kurtis, and it is also one of the most popular ones. This neckline takes inspiration from western fashion, and mixing it with Indian clothing gives you a more sophisticated and extremely flattering look, which is sure to pull all the attention to you without you even trying.
24. High Neck Kurti
A high-neck Kurti is perfect for when you are looking to experiment with different necklines. This neck design is extremely flattering, and gives you a more elongated effect, making you look taller and more put together effortlessly.
25. Choker Neck Kurti
A choker neckline is a fun twist to the classic round neck design. It gives your clothing a unique western element, which gives you a more fashionable and modern look effortlessly. This Kurta has a choker neck design, and it is made to be flattering to all body shapes and body sizes, and it also has a keyhole design at the back.
Conclusion
Kurtis is a piece of clothing that is a perfect mix of fashion and comfort. This article lists fashionable and new neck designs for Kurtis.
Related Content: