karwa Chauth is a festival all about dressing up in your favourite sarees and lehengas. It has been celebrated all around the globe by Hindu women. The little details about the festival make it more special. Red is the auspicious colour considered in Indian traditions. New brides and even the ones who have already been married for years prefer the red colour to wear on karwa Chauth.
Colours and everything decides with the time but the main focus is to decide the outfit. What's better than carrying a saree as an outfit for the day. Many women choose saree over other outfits as the 6 yards of beauty gives elegance and edge to your look. This always remains a timeless beauty and epitome of elegance. Overall sarees become a beautiful statement outfit. So if you are considering saree as an option this Karwa Chauth here are different saree you can opt for. These don't only look classic but add vibes to your whole Karwa Chauth look.
Table of content
Sarees to Style this Karwa Chauth
1. From the house of Banaras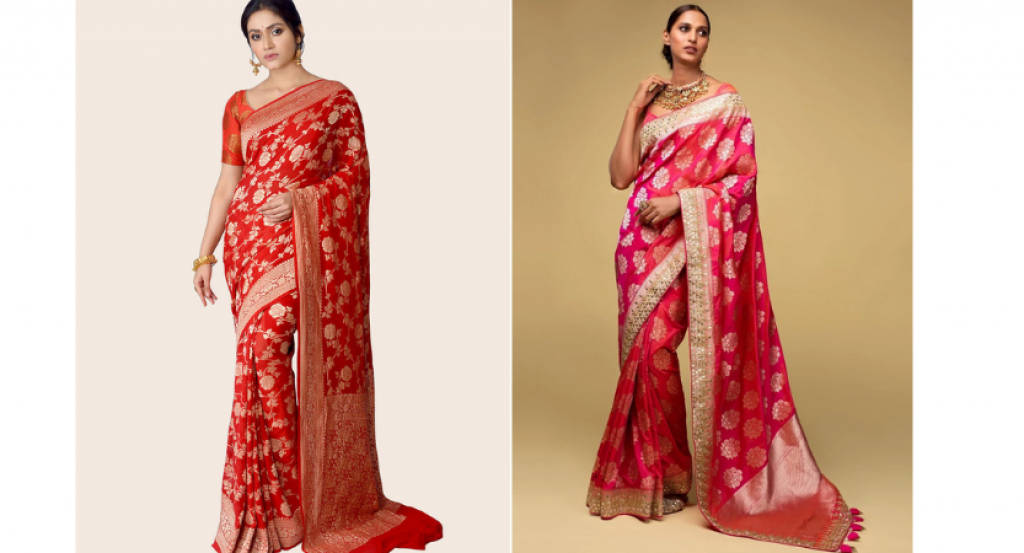 Banarasi Karwa Chauth Saree the heart of Banaras are intricated in the handlooms. These are some of the festive staples as the saree is weave by hand. There are many cloth companies selling machine-made sarees but the handwoven have their own vibe. These are pure great for the festive period.
The saree gives you more of a luxurious drape. These are great for the Karwa Chauth occasion. You can always find authentic Banaras saree in the stores if you can locate one or you can shop online. There are different designs and colours available in the market to choose from what you love and vibe in.
Buy Banarasi Saree at Amazon– Banarasi Saree
2. The Classic Saree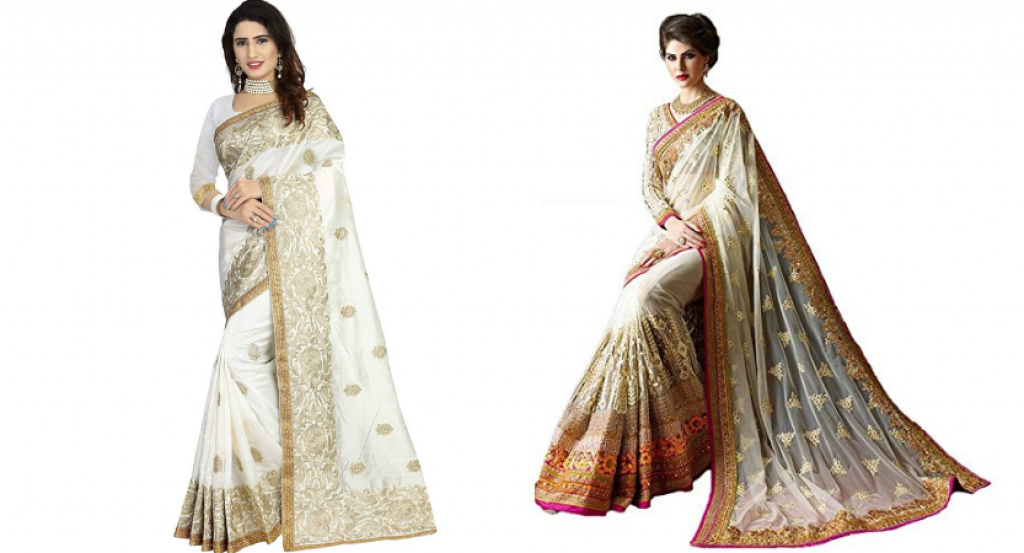 There may be some of you who want to go for the age-old stapled piece in your wardrobe. If you want to have a heavy draping 6 yards beauty you can go for a classic Karwa Chauth Saree piece. Wearing a classing heavy drape will not only suit you entirely but will also suit the occasion. If you want to ditch lehengas you can go for a heavy classic saree piece. You can go for material like a gleam of sequins, the metallic sheen of zardozi, and a bit of rhinestone that will complete your classic festive look.
Buy saree at Amazon- Classic Saree
3. Lehenga Sarees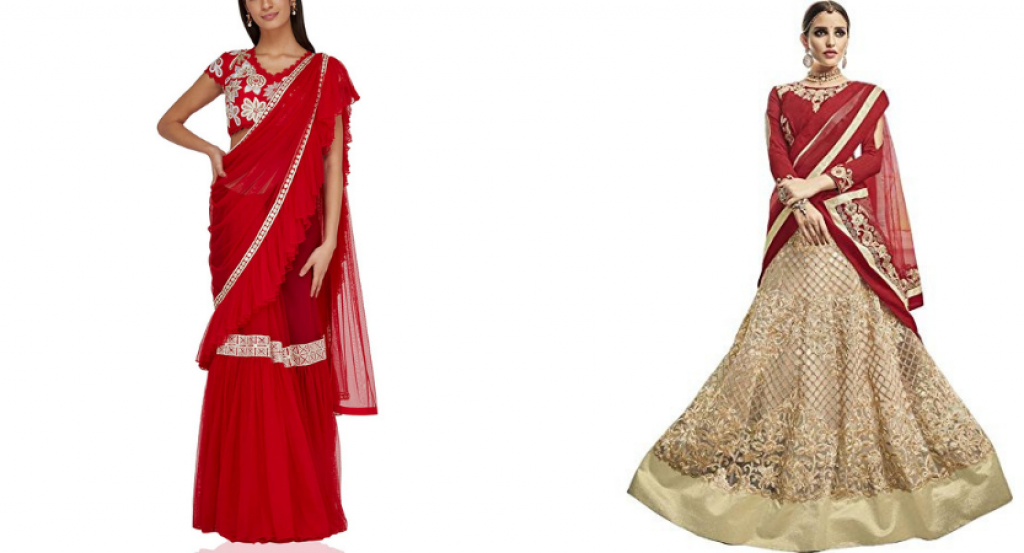 It is not possible that everyone can drape a saree. If you are someone who wants to ditch a normal saree you can go for a lehenga saree. You can always opt for a bright colour lehenga Karwa Chauth Saree. You can always consider this saree as an option to go for. These are easy to wear and you get a lehenga and saree in one. These are more comfortable to wear than those classic pieces and give an edgy look too. So if you are someone who expects comfort from a saree and wants a modern drape then you can choose this saree.
Buy Lehenga Saree at Amazon- Lehenga Saree
4. Plain Sarees
Not everyone has a taste for heavily embroidered saree if you are also the one you can opt for plain printed sarees. These not only provide a subtle look but gives you more space to play with your looks. This saree also provides a statement look. You can pair them up with some heavy blouse and this can easily turn out to be a stylish and modern look. You can add some heavy accessories to the look. You can go for different drapes frilly, ruffle, edges, and many more.
Buy Saree at Amazon- Plain Saree
5. Bandhani Saree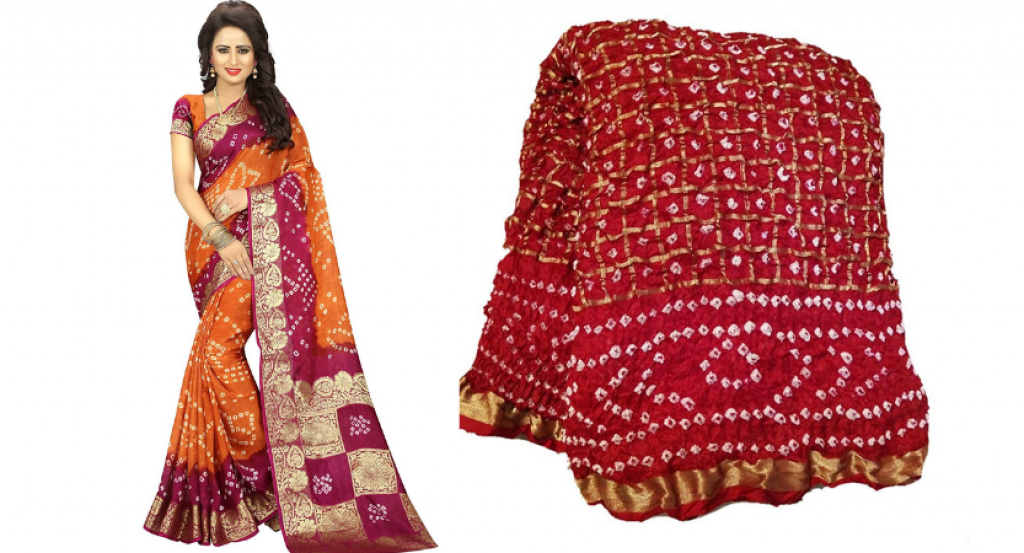 A printed georgette Bandhani saree adds the traditional touch to the look. If you are someone who prefers to be stuck to the roots can go for this saree. The Bandhani Karwa Chauth Sarees are from the house of Rajasthan. These don't only look fashionable but also are comfortable to wear and the fabric is breathable. These are suitable if you are looking for comfort and fashion under one roof. If you are eyeing traditions you can go for these sarees.
Buy Bandhani saree at Amazon- Bandhani Saree
---
Related items for Karwa Chauth (MUST BUY):
---
How to wear stylish Karwa Chauth Saree in traditional Style?
On the day of Karva Chauth, every woman wishes to wear a red saree and seem the most attractive. However, some women are unable to wear a sari despite their desire, due to their shorter stature or increased weight. She avoids wearing a saree because she dislikes the way she appears in it.
Although those women are not avoided from wearing saris, they should do so with some styling advice to complete their look.
Women of short height should wear a saree with a small design; this will make them appear taller.
By following these recommendations, you may wear a saree in the appropriate way, which will make you appear nice. So let's know about those tips.
Avoid wearing saris above the navel – If you are shorter in stature, you should tie the sari below the navel. By draping a saree over the navel, the look is given an air of roughness.
Buy Small Prints Saree- Individuals with short height should always purchase sarees with little prints. This will give your height the appearance of being slightly taller. This is because clothing with small print creates an illusion. As a result, your height appears to be greater and your weight appears to be less.
---
Frequently Asked Questions
Can we wear black clothes on Karwa Chauth?
On Karwa Chauth, refrain from giving or donating white-coloured products such as rice, curd, or milk to anyone. This can have a negative impact. On this day, wear bright colours. When performing puja, avoid wearing anything black, brown, or blue.
What should I wear on first Karwa Chauth?
You can wear some outfits to celebrate your first Karwa Chauth, which are:

– Floor length Anarkali with embroidery
– Simple Pallazo and Kurta
– Sheer saree with beautiful embroidery
– Simple chanderi silk anarkali with contrasting dupatta
Can we wear a suit on Karwa Chauth?
From short Patiala suits to long Anarkalis, there is something for everyone. You can choose from classic shades like as pink, maroon, or red, or from softer pastel colours such as mauve and olive. Due to the fact that Karwachauth is a North Indian celebration, women choose to dress in suits.
Also Read