Highlights –
Karwa Chauth is on 24 October this year.
The festival of Karwa Chauth is celebrated by married women by fasting for their husbands.
Here are some rituals which need are performed in the festivals.
Karwa Chauth 2021 Date and Day
The Karwa Chauth is a Hindu festival celebrated by married women in north India. The Karwa Chauth will be celebrated on 24 October 2021. This festival falls before Diwali on the fourth day, after the full moon in Kartik month. Married women do fast on the whole day for their husband's long life. It is a symbol of nature, a celebration of the institution of marriage.
Story of Karwa Chauth (Katha)
The Karwa Chauth puja is known for the storytelling of Princess Veeravati. She was the only sister of seven brothers. On her first Karwa Chauth, she visits her parent's house. Due to fasting all day without having the water affects her weak and she faints. The seven brothers couldn't bear to see their sister under stress and they tricked convincing her the moon has risen. Veervarti falls for her brother's trick and broke her fast. After that movement, the word arrived that her husband is dead. She rushes to her husband's place. When she revealed her pain and how he was tricked by her brothers the goddess Parvati and Lord Shiva they instructed her to repeat the Karwa Chauth fast with full Devotion which will bring back her husband. The story ends happily as the king gets conscious and they lived happily.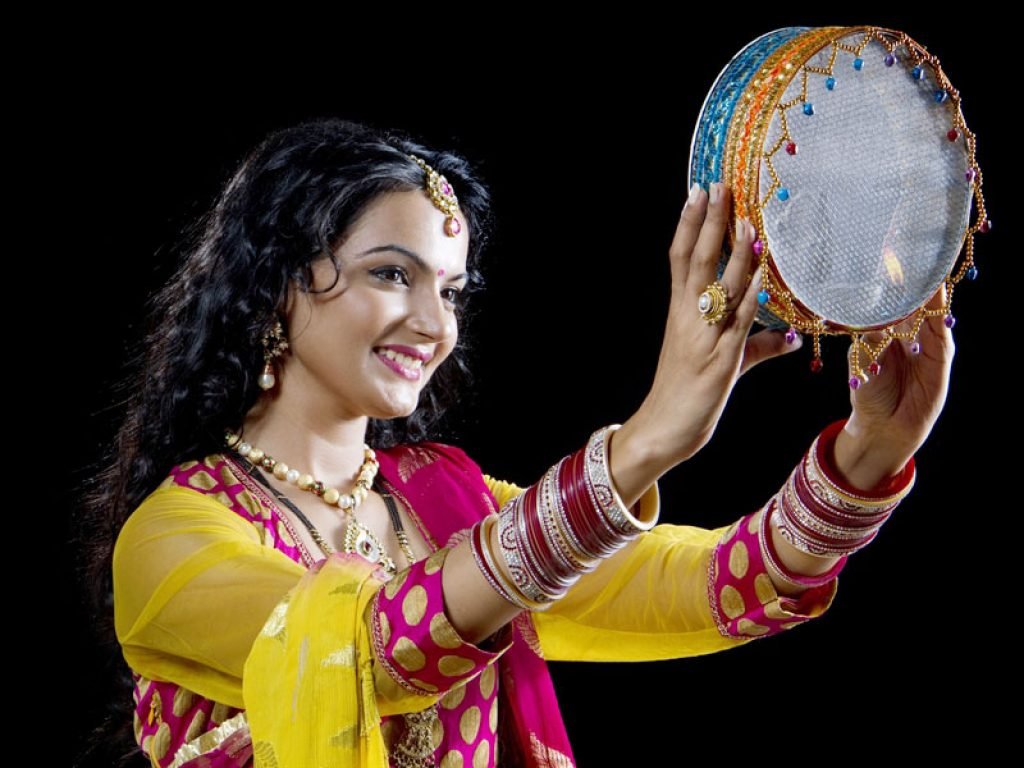 Getting Ready For Karwa Chauth
The North Indian women start preparing for the festival a few days in advance. On this day women get decked up in their best sarees they mostly wear red or pink colour saree with matching accessories. They get henna on their hands. In fact, 1-2 days before the Karwa Chauth is henna artists charge the highest. The price goes high as Rs. 500-1000 per hand depending upon what design you want and how much area is on your hand.
Karwa Chauth Vrat (Fast) Vidhi
If you have seen the movie Kabhi Khushi Kabhi Gham, you will relate to the concept of Sargi. On Karwa Chauth Day mother in law gives Karwa Chauth Sargi to her daughter in law which is known as a festive breakfast. Sargi should be consumed before sunrise. It includes dry fruits, vermicelli, kheer, mathri and has lots of water as you can not have any food and water until the moon rises. Here are the following tips for women observing Karwa Chauth:
Include lots of fruits like banana, papaya, apple, etc. in the sargi.
Avoid oily and fried food in the morning as these are heavy other than this eat multigrain chapatti with vegetables.
Also, avoid tea or coffee as they dehydrate you later in the day. Instead of this drink fresh juice, milk, and cup of green tea.
Have few dry fruits like walnuts, almonds, and cashew.
Karwa Chauth Puja
The Karwa Chauth Puja is performed during the evening. The women dress up and gather together to perform the puja. At the time of puja, the women sketch goddess Gaura and Chauth Mata on the wall who is considered to represent the Goddess Parvati. The Katha is read and told to everyone as the Karwa Chauth thali with a sweet, glass of water, diya, roli, sindoor, karwa, and other puja materials are passed around in a circle. Now all they do is wait for the moon to rise.
Breaking the Fast
Once the moon is raised, women break the fast. There are different people who break the fast in different manners. The one is the traditional way where women see the reflection of the moon in the thali with the help of a sieve and then look at their husband with the same sieve and pray for the safety and security of their husband. Then the husband makes his wife drink water and breaks the fast. In recent time husband also do fast for their wives, breaking stereotypes.
Fasting all day it is important that you are careful about how to break your fast:
Start by drinking one glass of water and you should also have a few nuts.
Avoid drinking tea or coffee after breaking your fast it will create acidity.
Also, try to avoid oily and spicy food. Eat easy and digestible foods like uttapam, dosa, vegetables, daal, oats mealchapatti, panner or rice.
Eat some yoghurt.
To finish your meal with sweet you can have two or three dates, homemade kulfi or a small piece of dark chocolate.
Frequently Asked Question
Can an unmarried girl keep Karwa Chauth?
'Yes,' is the answer. Women who are single and unmarried are welcome to participate in the festival by fasting. And they pray to the Almighty on this day for the blessing of an excellent life partner.
Can we drink water in Karwa Chauth?
You are not supposed to have food or water until the moon rises.
Related Content: