Shared Hosting – $1.79/mo (85% OFF)
VPS – Start from $42.87/mo (35% OFF)
Dedicated Plan – Start from $99.42/mo (35% OFF)

Validity – 23th November to 3rd December
If you want to snag some great sales on hosting plans, you won't want to miss FastComet Black Friday Deals 2023.
You can save up to 85% on select plans for a limited time.
Whether you're looking for shared hosting, cloud, VPS, or dedicated hosting, FastComet has the right plan.
With FastComet's anytime 45-day money-back guarantee, you can shop confidently, knowing you can get a full refund if you are unsatisfied.
So don't wait – head over to FastComet's website and take advantage of their Black Friday deals before they're gone!
FastComet Black Friday Deals 2023 – Overview
Fastcomet recently launched its Black Friday offer in November 2023. Let's see what they are offering in this sale.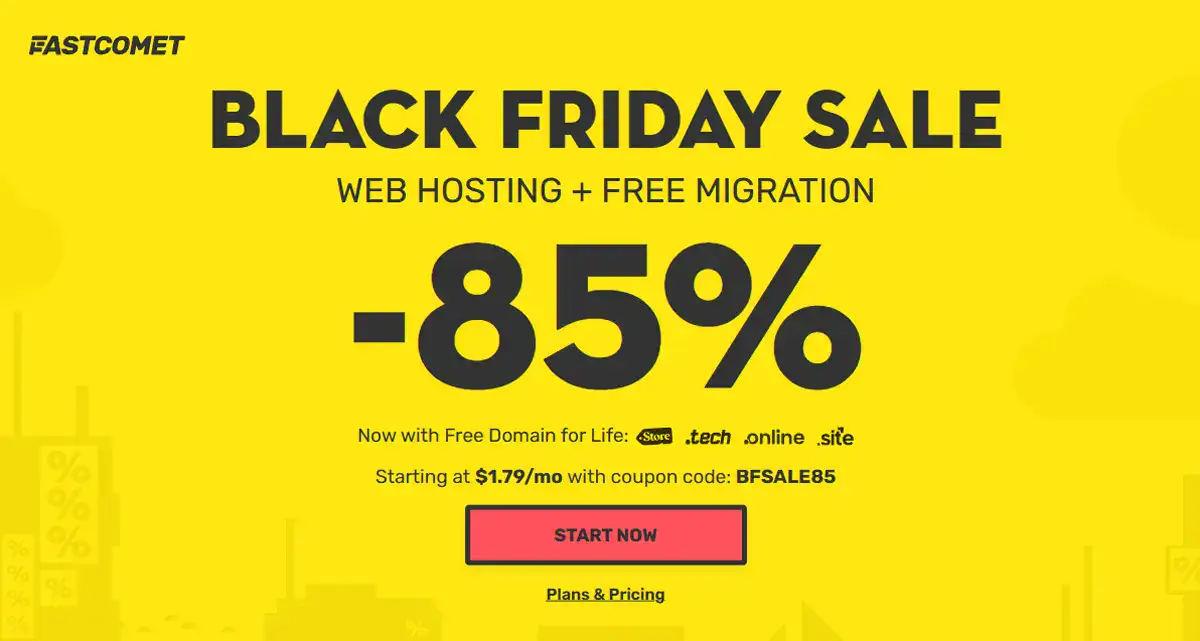 Shared Hosting: Save up to 85% on all Plans for 12 months. Use coupon code: BFSALE85
Cloud VPS Hosting: Up to 35% Off. Use coupon code: BFSALE35
Dedicated CPU Server: Up to 35% Off on all plans. Use coupon code: BFSALE35
The Sale starts on 23.11.2023 and ends on 3.12.2023.
---
How do you activate FastComet Black Friday Discount 2023?
Step 1: Head over to the FastComet website from here to get started.
Step 2: Click on the "Start Now" button.
Step 3: Choose your preferred web hosting plan and click the "Get Started" button.
Step 4: Now register your new Domain name or enter your existing one and click on the "Use This Domain" button.
Step 5: Make sure you fill in all account information.
Step 6: Now scroll down and choose your plan, data center location, and hosting service period.
Step 7: I recommend you choose 24 monthly billing periods to maximize the benefit from this black Friday sale.

Step 8: FastComet is offering some optional extras. You can skip these and jump to the Payment Information.
Step 9: Enter your credit card or PayPal account details to buy hosting.
Step 10: The Promo code will automatically be applied at checkout if you use our special affiliate link.
Step 11: Click on the "Place Order" button.
---
FastComet Plan Pricing during Black Friday Sale
FastComet is offering some fantastic discounts on all of its plans! Here's a breakdown of their Black Friday pricing:
Shared Plans at 85% Off
FastCloud Plan: $1.79/mo (usually $11.95/month)
FastCloud Plus Plan: $2.69/mo (usually $17.95/month)
FastCloud Extra Plan: $3.74/mo (usually $24.95/month)
Cloud VPS Hosting at 35% Off
Cloud 1 Plan: $42.87/mo (usually $65.95/month)
Cloud 2 Plan: $50.02/mo (usually $76.95/month)
Cloud 3 Plan: $64.32/mo (usually $98.95/month)
Cloud 4 Plan: $100.07/mo (usually $153.95/month)
Dedicated Plans at 35% Off
Get a 35% discount on fully managed dedicated AMD EPYC CPU Servers.
DS 1 Plan: $99.42/mo (normally $152.95/month)
DS 2 Plan: $120.87/mo (normally $185.95/month)
DS 3 Plan: $163.77/mo (usually $251.95/month)
DS 4 Plan: $249.57/mo (usually $383.95/month)
So don't wait – take advantage of the Black Friday offer today and get the best hosting deal!
---
Why choose FastComet during Black Friday Deals and Cyber Monday Sales?
There are many reasons to choose FastComet as your web hosting provider, even more so during their Black Friday Deals and Cyber Monday Sales. Here's a list of some great features that FastComet offers.
1. Affordable Pricing: Fastcomet is one of the most affordable hosting providers. Its basic shared hosting plan is at just $1.79/mo, 85% off the regular price of $11.95/mo.
2. Free Website Migration: To start with, they're one of the few hosting companies that offer free website migration. So, if you're currently hosted with another provider and want to switch to FastComet, they'll help you move your site for free.
3. Best Customer Support: They also have some of the best customer support in the business. Their live chat is available 24/7/365, and their team is always willing to help with whatever you need, whether it's technical support or just advice on choosing the right hosting plan for your needs.
4. Optimized Hosting: FastComet's LiteSpeed Enterprise Web Server is the perfect solution for businesses that need dedicated resource availability and a cloud that scales on demand. It is 12x faster than Nginx and 84x faster than Apache.
With support for the latest MySQL and PHP with OPCache and HTTP/3, this web server provides everything you need to keep your website running smoothly and efficiently.
5. 30 Days Daily Backup: Another great feature of FastComet is its daily backup service. They keep your website backed up for 30 days, so you can rest assured knowing that your data is safe and secure.
6. Website Security: FastComet provides comprehensive security for your website with DNS and DDoS protection, a CDN, and Imunify360. Their Web Application Firewall (WAF) protects your site from attacks, and Secure Account Isolation ensures your account is safe from hackers. Their Professional Anti-spam Email Security protects your email from spam and phishing attacks.
7. 99.99% Uptime: With FastComet, you can be confident that your website will always be up and running. They offer a 99.99% uptime guarantee, so you know that your site will be accessible to your visitors when they need it.
8. Datacenters: FastComet has 11 data centres located worldwide, so you can choose the one closest to your visitors for optimal performance. Their data centres are equipped with state-of-the-art security and cooling systems, and they have multiple layers of redundancy to ensure that your website is always up and running.
9. 1-click WordPress installation: With FastComet, you can easily install WordPress with just a few clicks. Their 1-click installer makes it easy to get started with WordPress, and their 24/7 support team is always available to help you if you need it.
---
Pros and Cons of FastComet
Pros
Free Site Migration
Free Domain Transfer
28 Days Daily Backup
45 Days money back guarantee
Fast Support
Free Cloudflare CDN
Brotli Compression
Imunify360
WAF
LiteSpeed Server with Memcache & Opcache
11 Data Centers with 200 Global CDN Anycast Network access points
Cons
No unlimited Storage in any plan
Final Thoughts for FastComet Black Friday Deals 2023
So there you have everything you need to know about FastComet Black Friday deals. If you are looking for a fast, reliable, and affordable hosting provider, get up to an 85% discount on their hosting plans during this Black Friday deal while they last!