Are you Looking for an Elementor Black Friday Deal in 2023? If yes, you are on the right page.
Elementor is offering up to a 50% discount on its hosting & page builder plugin plans, in which you will get WordPress hosting with the Elementor Pro plugin till 30th November 2023.
With Elementor, you can build professional websites without having to code. That means you can focus on what's important – creating amazing content.
So don't wait – get started today and take your website to the next level.
Elementor Black Friday Deal 2023 – Overview
Here are the complete details for the Elementor Black Friday deal with its pricing plans:
Get up to 50% Off on all Elementor hosting plans and up to 30% Off on Elementor Pro Plugin Plans.
The sale will start on 21st November and end on 30th November 2023.
A 30-day money-back guarantee is also applicable during black Friday.
This discount is available for new customers.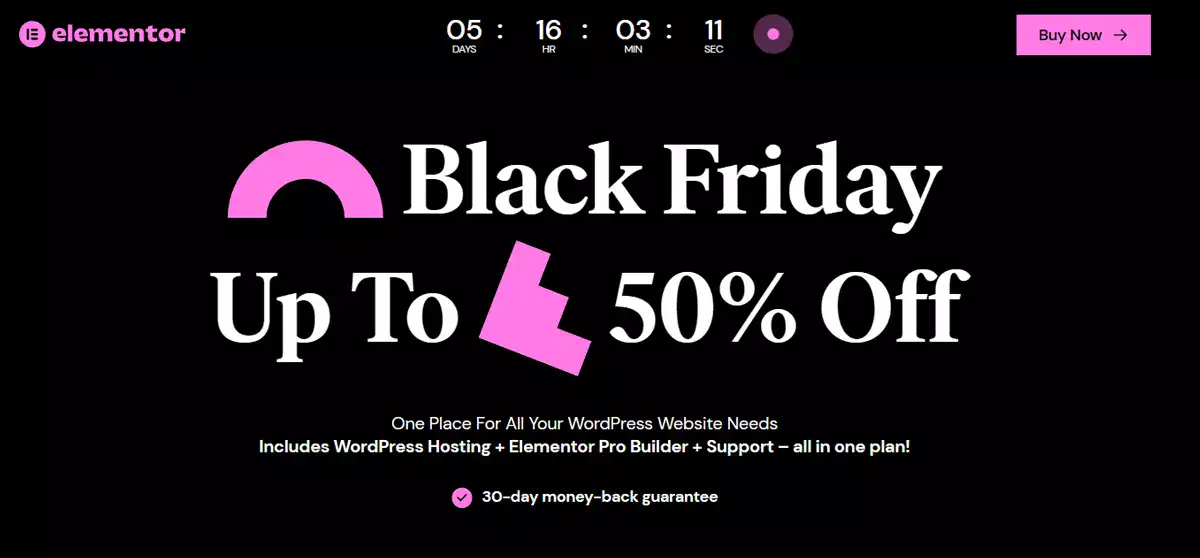 | Elementor Product | Plan name | List price | Black Friday Discount | Sale Price (Yearly) |
| --- | --- | --- | --- | --- |
| Plugin | Essential | $59 | No Discount | $59 |
| Plugin | Advanced | $99 | 10.10% | $89 |
| Plugin | Expert | $199 | 20.10% | $159 |
| Plugin | Agency | $399 | 30.08% | $279 |
| Hosting | Basic | $179.9 | 46.70% | $95.9 |
| Hosting | Business | $299.9 | 50.02% | $149.9 |
| Hosting | Grow | $395.9 | 36.37% | $251.9 |
| Hosting | Scale | $719.9 | 30.01% | $503.9 |
If you are considering signing up for Elementor page builder, now is the time! This is the biggest discount they've ever offered, so don't miss out!
Let's talk about how you can get Elementor Black Friday 2023 sale.
How to grab Elementor Black Friday 2023 Sale?
To get the Elementor black Friday deal, follow these steps:
Step 1: Go to Elementor's website from our special affiliate link.
Step 2: Choose your preferred Elementor plan according to your need and click on the "Buy Now" button.
Step 3: Create your new account or sign in to your free account.
Step 4: Enter all your billing details and choose a payment method.
Step 5: After filling in all details, click the "Pay Now" button.
Enjoy your savings!
Top 5 Reasons to Choose Elementor Website Builder For WordPress
Here are the top 5 reasons to choose Elementor for your next WordPress website:
1. Fast and Easy to Use
With Elementor, you can create beautiful websites in minutes without touching a single line of code. Just drag and drop the elements you need into place, and you're good to go.
2. Packed with Features
Elementor comes with everything you need to create a professional website. From powerful page builder features to pre-designed templates and themes, Elementor has you covered.
3. Fully responsive
Elementor websites look great on any device thanks to our fully responsive design. Your website will look great on desktop, tablet, and mobile, with no extra work required.
4. SEO Friendly
Elementor websites are designed to be fast and lightweight, which helps with your website's SEO. We also include schema.org markup and other SEO features to help your website rank higher in search engines.
5. Growing Community
Millions of WordPress users worldwide use Elementor, and our community grows daily. You can find support and advice from other Elementor users and access our growing library of tutorials and resources.
Elementor Pro is a great option for an easy-to-use, highly customizable, and affordable page builder.
Elementor Faqs
Is there a money-back guarantee?
Yes, Elementor offers a 30-day money-back guarantee.
Is there any Elementor Black Friday offer for Existing Customers?
Yes. Existing clients can take advantage of exclusive offers. If you choose to upgrade your Elementor plan, you will only be charged the difference in price between your existing license and the one you wish to upgrade. It may be decided by the remaining time on your existing membership plan.
Do I need a Coupon to get the Discount during the Elementor Black Friday Deal?
No need for a coupon code. This discount is automatically applied at checkout.
What are the benefits of using Elementor Pro?
There are many benefits to using Elementor Pro, including the ability to create complex layouts easily, add custom CSS and HTML, and access a wide range of widgets and features. Elementor Pro also includes a free theme builder, making it an extremely versatile tool for creating beautiful websites.
Is Elementor Pro affordable?
Yes, Elementor Pro is affordable. It starts at $49 per year for a single-site license. A 30-day money-back guarantee is included with all plans.
Is Elementor Free With WordPress?
Yes, Elementor is free with WordPress. Purchasing a separate license or subscription to use Elementor on your website is unnecessary. You can download and install the Elementor plugin from the WordPress repository and then use it to create amazing pages and designs on your website. If you want advanced features, then you can buy Elementor Pro.
Final Thoughts on Elementor Black Friday Sale 2023
If you're looking for a WordPress page builder plugin that allows you to create custom pages and posts with drag-and-drop, then Elementor is a great option. To add extra functionality to your site, you can also use Elementor Addons.
You'll get upto 50% discounts on Elementor plans during the Black Friday deals and Cyber Monday sales in 2023.
Remember that Elementor is one of the most popular WordPress plugins, and their Add-ons are also very popular. So, if you're considering getting Elementor, I recommend acting fast and getting it during the Black Friday deal.
So don't wait – get started today and take your website to the next level.