40% OFF for 4 Months.
40 Free Migrations.
Validity between 10th Nov to 1st Dec.
Are you looking for the Cloudways Black Friday Deals in 2023? If yes, you are in the right place.
Cloudways is offering a massive discount of 40% for the first 4 months, plus up to 40 free migrations using the coupon code BFCM4040. You will get this discount on the premium cloud hosting service only once a year.
Cloudways sale will start on November 10th, at noon EST, and last until December 1st, 2023, at 11:59 PM EST.
So don't wait – get your discounted hosting plan today!
How To Activate Cloudways Black Friday 2023 Deals?
Here's how to activate Cloudways Black Friday deals:
Step 1: You can avail of the 40% Discount by clicking on this link.
Step 2: You will land on the Cloudways platform home page.
Step 3: Click the "Get 40% off for 4 months" button to redirect you to the signup page.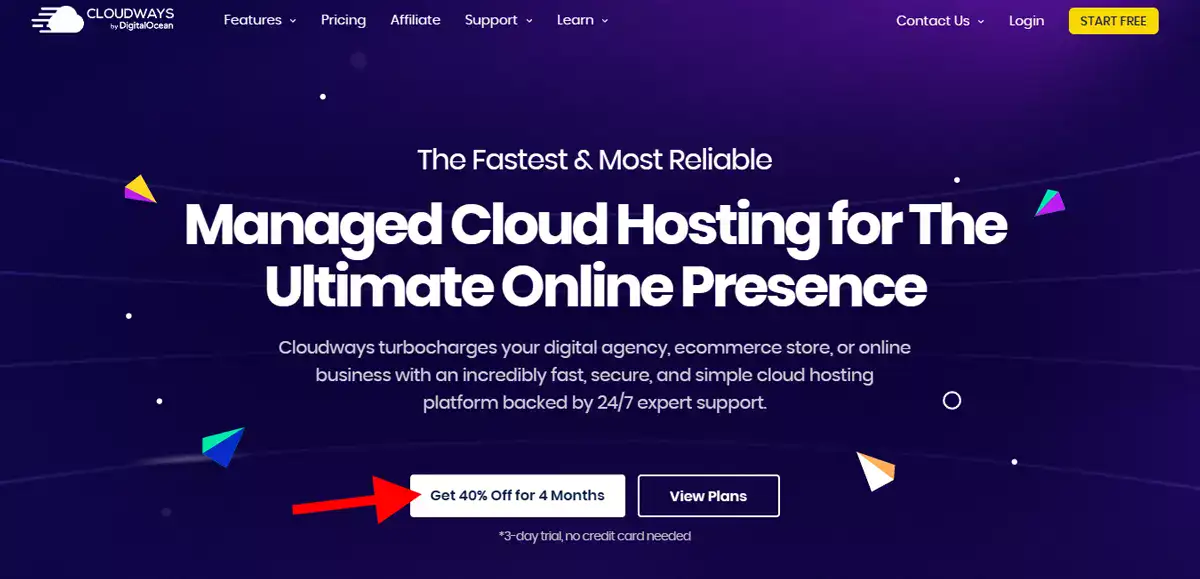 Step 4: You have to provide some basic account information. Then, you have to enter our exclusive Cloudways black Friday coupon code (BFCM4040) in the "Got a Promo Code" section.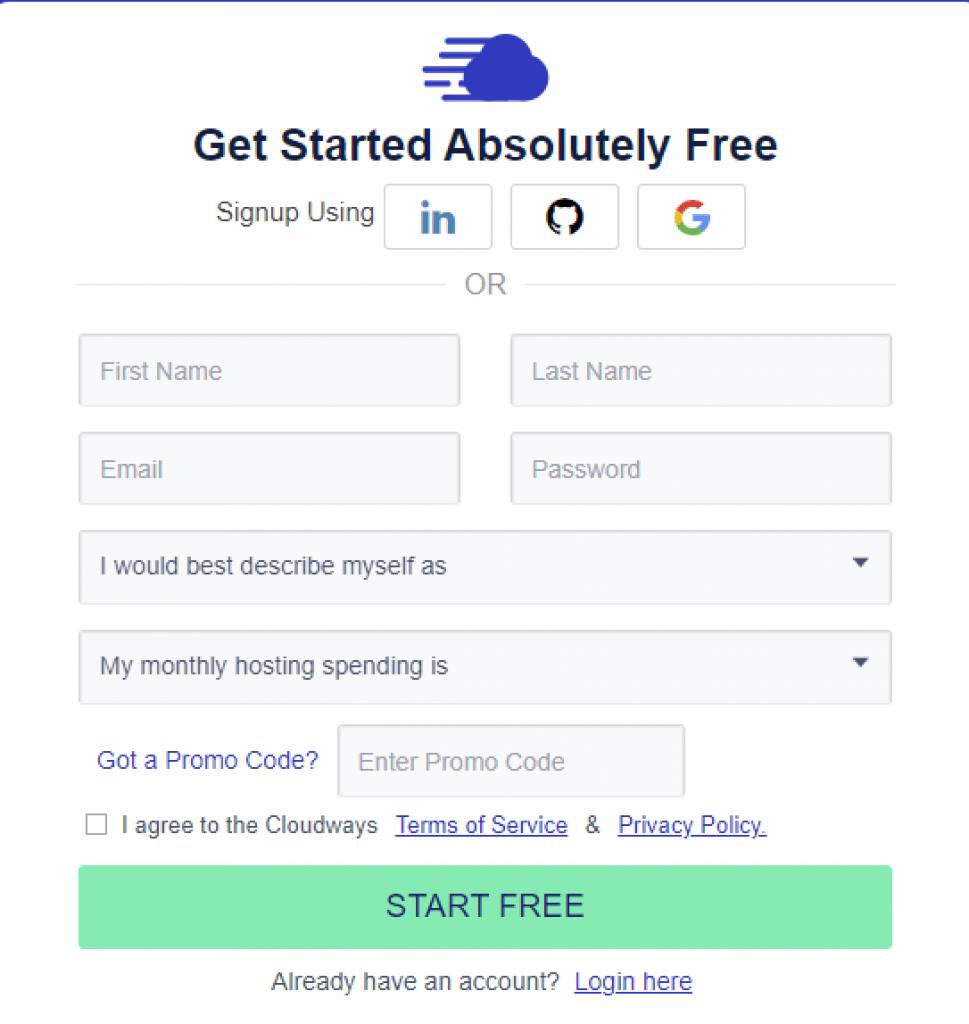 Step 5: After successfully applying the code, click the "Start Free" button.
Congrats on your registration! Now that you have successfully activated your discount on Cloudways enjoy your savings!
---
Cloudways Pricing
Cloudways offers a variety of flexible and affordable pricing plans to suit the needs of any business. Whether you're just getting started or are looking to scale your operation, they have a plan that's right for you.
Their pay-as-you-go model means you only pay for the resources you use, so you can keep your costs down as your business grows. Their simple, intuitive interface makes it easy to manage your cloud resources so that you can focus on your business, not your infrastructure.
Cloudways offers plans from 3 different IaaS providers, with starting prices ranging from $11/month to $38.56/month, which can go up to $285.21/m.
Here, we will provide complete information about all the Cloudways plans and discounts during Black Friday.
Digital Ocean – Starting at $6.60/mo instead of $11 usually comes with 1 GB RAM, 1 Core Processor, 25 GB Storage, and 1 TB Bandwidth.
Amazon Web Services – Starting at $23.14/mo instead of $38.56, it comes with 2 GB RAM, 2 Core Processors, 20 GB Storage, 2 GB Bandwidth, and Free Object Cache Pro.
Google Cloud – Starting at $22.47/mo instead of $37.45, it comes with 1.75GB RAM, 1 Core Processor, 20GB Storage, and 2GB Bandwidth.
Cloudways recently launched Cloudflare Enterprise Addons. This is an extra service that is not included in the standard pricing. If you want to boost your website performance globally and want enterprise-grade security and advanced CDN, you have to pay an extra $4.99 per site, but if you want it on multiple websites, you can get it for just $1.99 per site.
---
Cloudways Hosting Features
Here are the few prominent features of Cloudways hosting:
Multiple cloud infrastructure options (AWS, Google Cloud, DigitalOcean, Linode, Vultr)
Managed security and regular OS patches
Built-in caching solutions (Redis, Memcached, Varnish)
NVMe-based servers for faster performance
Automatic backups with easy restore options
Dedicated firewalls and security measures
Free SSL certificates
One-click app installations (WordPress, Magento, WooCommerce, etc.)
Cloudflare Enterprise CDN for improved website speed
30+ Global Data Centers
Seamless Vertical Scaling
Dedicated Environment
Staging Area & URLs
Auto-Healing Servers
24/7 expert support via live chat and ticketing system
---
Why Choose Cloudways?
Here are a few reasons why I chose Cloudways during this sale.
Scalable hosting plans: Cloudways offers scalable hosting plans that can be customized to meet the needs of any business. It is an excellent choice for companies that are growing or have fluctuating needs.
Excellent customer support: They offer 24/7 Live chat customer support, so you can always get help within seconds.
Free trial: Cloudways offers a 3-day free trial to try out the platform before you commit to it.
Cloudflare Enterprise CDN add-on: Cloudways is one of the few hosting platforms that offer the Cloudflare Enterprise CDN add-on. This add-on can help you speed up your website's loading times by up to 50%. You can get this add-on at just $4.99 monthly on one site.
Up to 40 Free Site Migrations: Another great reason to switch to Cloudways is that they offer up to 40 free site migrations during this Black Friday Sale. So, if you're currently using another hosting provider and are considering changing all your websites to Cloudways, now is a great time to do it.
FAQs on Cloudways Black Friday Sale
---
Final Thought
A cloud-managed hosting service like Cloudways can help your website rank higher in organic search engine results, so go for it.
These high-performance managed hosting features include excellent server response time, zero downtime, premium support, pay-as-you-go pricing plans, self-migration, and an affordable CDN.
A low-budget blogger or business startup can use this Cloudways Black Friday Deals and Cyber Monday Sale to purchase a high-quality hosting account.
Use the coupon code (BFCM4040) for a 40% discount for four months and host your site on a premium server!
What do you think of this managed hosting service and its Black Friday discounts?
Leave your thoughts in the comments section.