Are you waiting to get the best web hosting deal for this Black Friday sale? Then you are in the right place. We are here with Cloudways hosting.
Cloudways is offering a huge discount of 40% off for the period of 4 months during this Black Friday deal. You will get this discount on the premium cloud hosting service only once in a year. Go and grab the offer before it ends.
Here we are going to give you the complete information about all the plans and the discount link.
Introduction To Cloudways Hosting
Cloudways managed Cloud Hosting Platform provider that stands out in cloud hosting. You can also say Cloudways as a service. They don't have their own Hosting servers but they offer.
Cloudways doesn't have their own Hosting servers, instead, they Provide management for Cloud hosting services from other cloud hosting providers. It is a completely managed Cloud Hosting service provider. They have good features that are specially designed and optimized for Speed, Security, and Performance. At present they are working with 5 Different Cloud Hosting Servers. They are:-
Digital Ocean
Google Cloud Platform
Vultr
Linode
Amazon AWS
Cloudways excess of Managed Cloud Hosting Services to users all around the globe. It was founded in 2009 by Uzair Gadit, Pere Hospital, and Aaqib Gadit. Their headquarters is situated on Malta Island Europe.
They have a great team of more than 30 staff and they are providing their best service to over 8000 users over 43 different countries to initiate their own 12,000+ servers and 25,000+ web apps.
The lowest service of Cloudways for Cloud Managed Hosting Service is $10 per month.
You are having an amazing tool with the Cloudways managed Cloud WordPress hosting, here you can scale your resources when your site grows. Hence you are paying only for what you are using.
They are offering 2 types of billing,
Hourly Billing
Monthly Billing
If you are not sure about using Cloudways managed Cloud hosting service, then you can take 3 Days FREE Trial of their Managed Cloud Hosting service.
Get Cloudways cloud hosting today and get 40% discount on first 4 months billing
Cloudways Black Friday Deal 2020
| Cloudways Plans | Resources | Normal Price | Black Friday Price | Discount |
| --- | --- | --- | --- | --- |
| DO1GB | 1 GB Ram1 Core Processor25 GB Storage1 TB Bandwidth | $10/mo | $6/mo | 40% OFF For 4 Months |
| DO2GB | 2 GB Ram1 Core Processor50 GB Storage2 TB Bandwidth | $22/mo | $13.20/mo | 40% OFF For 4 Months |
| DO4GB | 4 GB Ram2 Core Processor80 GB Storage4 TB Bandwidth | $42/mo | $25.20/mo | 40% OFF For 4 Months |
| DO8GB | 8 GB Ram4 Core Processor160 GB Storage5 TB Bandwidth | $80/mo | $48/mo | 40% OFF For 4 Months |
| DO16GB | 16 GB Ram6 Core Processor320 GB Storage6 TB Bandwidth | $135/mo | $81/mo | 40% OFF For 4 Months |
| DO32GB | 32 GB Ram8 Core Processor640 GB Storage7 TB Bandwidth | $230/mo | $138/mo | 40% OFF For 4 Months |
| DO48GB | 48 GB Ram10 Core Processor1280 GB Storage8 TB Bandwidth | $315/mo | $189/mo | 40% OFF For 4 Months |
| DO64GB | 64 GB Ram12 Core Processor2560 GB Storage9 TB Bandwidth | $395/mo | $237/mo | 40% OFF For 4 Months |
| DO96GB | 96 GB Ram14 Core Processor2560 GB Storage10 TB Bandwidth | $555/mo | $333/mo | 40% OFF For 4 Months |
| DO128GB | 128 GB Ram16 Core Processor2560 GB Storage11 TB Bandwidth | $715/mo | $429/mo | 40% OFF For 4 Months |
| DO193GB | 193 GB Ram18 Core Processor3840 GB Storage12 TB Bandwidth | $1035/mo | $621/mo | 40% OFF For 4 Months |
You will get a 40% Discount on all Cloudways Managed Cloud Hosting Plans for the next 4 Months during this Black Friday sale.
Need a best Managed Cloud hosting? Then grab this Cloudways Black Friday Deals.
How To Activate Cloudways Black Friday Deal 2020?
You can avail of the 40% Discount by clicking on this link.
Then you will land on Cloudways Black Friday deal offer page.
You have to fill the account and billing information. Then you can get the 40% of Cloudways Black Friday deal by entering the code BFCM2020.
Complete your checkout by debit card, Credit card or PayPal Account.
Now you have availed the 40% discount. Congrats on your registration.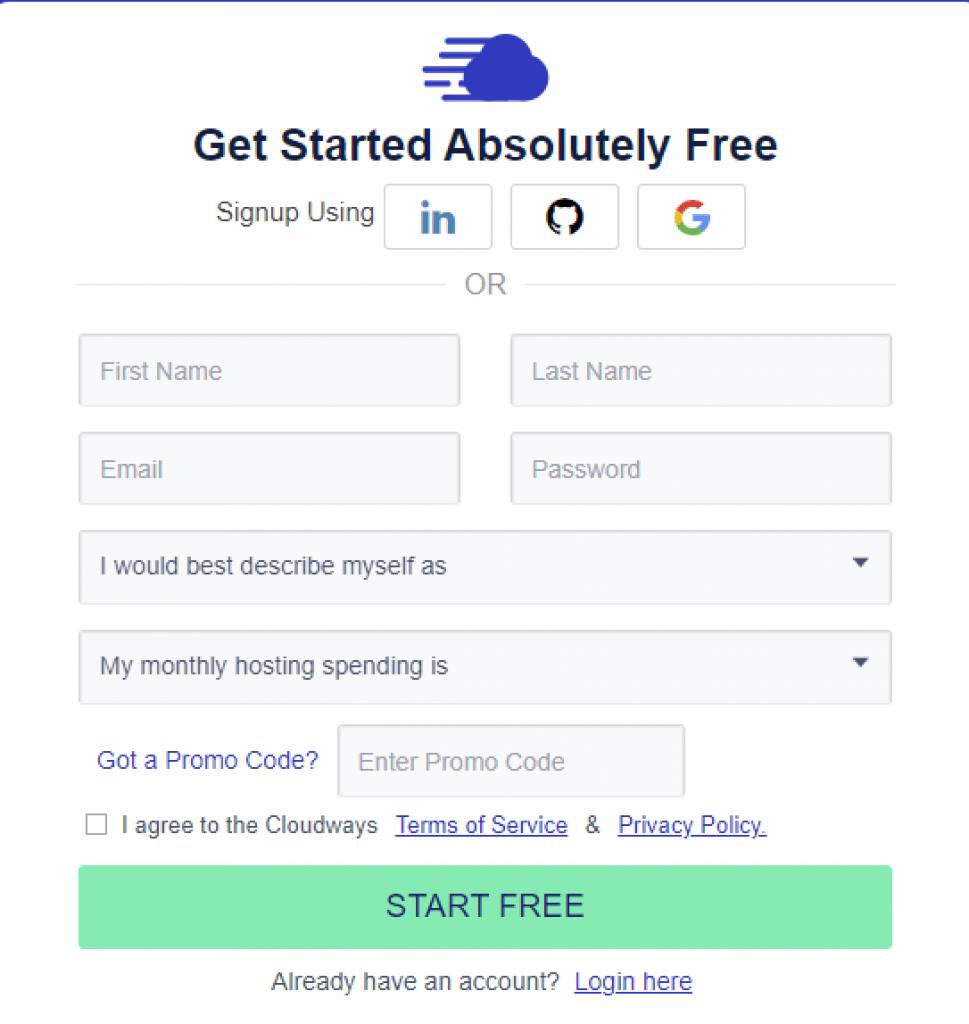 Features Of Cloudways Hosting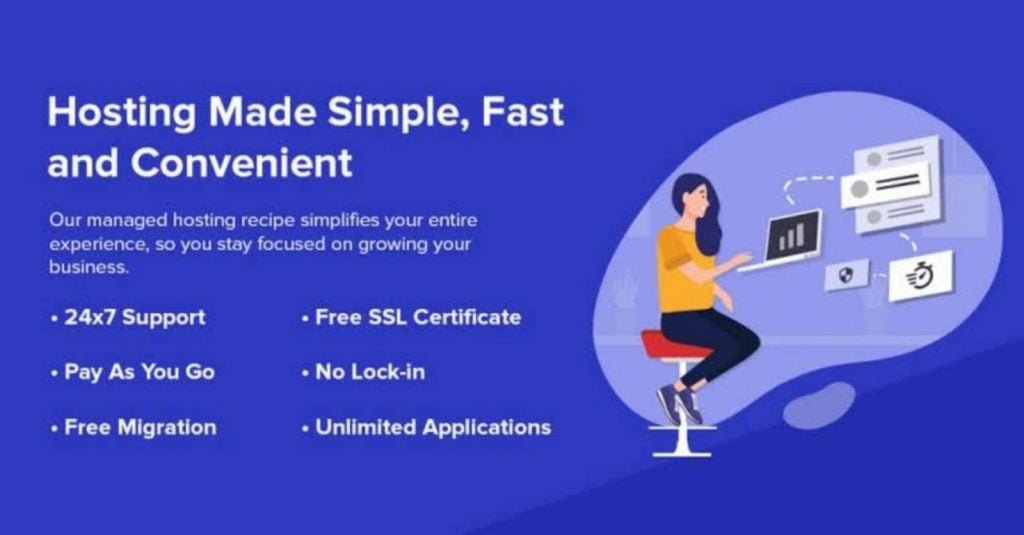 SSD Based Super Fast Managed Cloud Hosting
You are the control for what you pay and what you use
Easy scaling of your server and increase specifications if you have sudden traffic
Faster than most Hosting companies out there
Its cloud hosting means your site's data is stored on multiple different server locations all across the globe.
Offers FREE Cloudways CDN
Cloudways will take care of your site migrations
Cloudways has a dedicated firewall for WordPress installations to protect from hackers.
Built-in Let's Encrypt SSL
One click installation
An extra layer of security for hackers
24/7/365 expert support
Cloudways Hosting Plans and Pricing Plans
They offer 5 different servers, get the price list below.
Digital Ocean – Starting at $10/mo
Linode – Starting at $12/mo
Vultr – Starting at $11/mo
Amazon AWS – Starting at $36.51/mo
Google Cloud – Starting at $33.30/mo
There is no option for paying yearly. You can pay either on a monthly or hourly basis.
Which Cloudways Hosting plan will be better for you?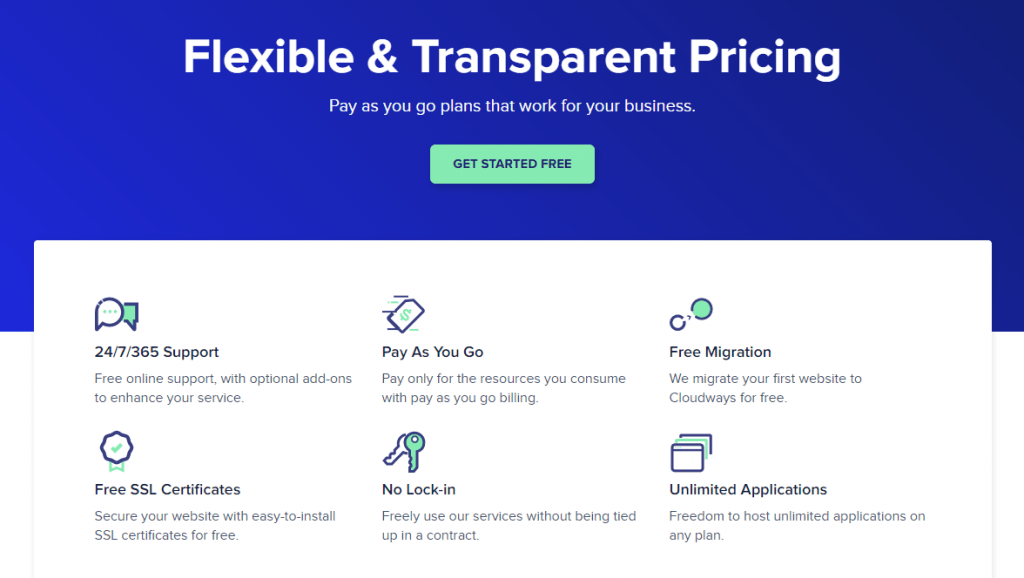 You can select plans based on your requirements. If you are a beginner then go with digital ocean, Linode or Vultr servers as they are cheaper in price.
If you need more advanced web hosting, go with the Amazon AWS or Google Cloud Platform.
Positive
More Storage
Suits well for small, medium to large sized websites.
Excellent Support Team
The Backend looks very, clean minimal and is very easy to use
No bandwidth Limitation – It can easily handle lots of visitors every month, you can improve your website resources as your website grows
Pay for what you use.
Works With Top Cloud Hosting Providers
Negatives
Cloudways doesn't support any email Hosting service
Cloudways Discount
Usually, Cloudways doesn't provide any discounts, but they are offering a huge discount of 40% off for the next 4 months on Plans in the Black Friday deal 2020. So, grab the offer before it ends.
Get latest Exclusive Discount Coupons for Cloudways here.
Conclusion
Therefore, this is what you should have to know before purchasing this hosting server. No matter who you are, from beginner to a professional one, this Cloudways will take your website to the next level. And don't miss this offer.
FAQs – Cloudways Black Friday Deal 2020
What is Cloudways?
Cloudways is a good Managed Cloud Hosting service that provides Managed Cloud Hosting services to all types of websites starting from small to large size.
Does Cloudways Offer FREE Website Migration?
They offer a free website migration. Connect their support team and ask for a site migration, they will do it for free. You can also use Cloudways WP migrator Plugin if you use WordPress.
Does Cloudways Offer Refund or Money Back Guarantee?
They offer a money back guarantee but they will charge for the resources that you have already used.
Does Cloudways offer any FREE Trial?
They do offer a 3 days free trial.