Save 75% on the Premium subscription plan
Offer valid till 30th November.
During Blinkist Black Friday Deal 2023, you can use a 75% discount on a Premium subscription until 30th November. Get a free 7-day trial to try out all the fantastic features.
With Blinkist, you can read or listen to non-fiction books in bite-sized summaries that you can consume in just 15 minutes. That means you can easily keep up with your reading goals, even with a busy schedule.
There are over 6,500+ titles to choose from in 27 categories. You'll also enjoy additional features like audio versions of summaries, personalized reading recommendations, and offline access to your favorite titles.
And with the Black Friday Sale, you can get all this for an incredibly low price of $20. So don't wait – sign up today and start reading or listening to the best non-fiction books around!
How to Redeem the Blinkist Black Friday Deal?
To take advantage of the Blinkist Black Friday offer, follow these step-by-step instructions:
Step 1: Visit the Blinkist website from here.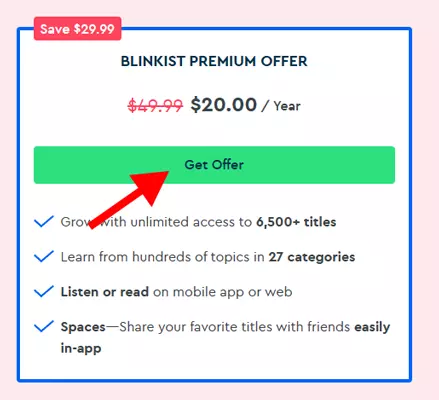 Step 2: Press the "Get Offer" button on the landing page.
Step 3: Sign up for the new Blinkist account on the popup window.
Step 4: No need to enter coupon code during the checkout process if you are using our exclusive link.
Step 5: Complete the purchase and enjoy the benefits of the Premium Plan.
Benefits of the Premium Plan
The Blinkist Premium plan offers several benefits over the free program, including:
Unlimited access to all Blinks: With the free plan, you can only read or listen to 5 Blinks monthly. With Premium, you can access all 6,500+ Blinks in the library.
Access to Blinkist Guides: Blinkist Guides dive into specific topics, such as leadership, productivity, and personal development. Premium subscribers get free access to all Blinkist Guides.
Collections tailored to your interests and goals: Blinkist Premium lets you create your own collections of Blinks so you can easily find the most relevant ones.
Offline access: With Premium, you can download Blinks to listen to or read offline, so you can learn even when you don't have an internet connection.
Highlight and save inspiring ideas: Premium subscribers can highlight and save inspiring ideas from Blinks and export them to apps like Evernote and OneNote.
Send your selected reads to your Kindle: Premium subscribers can send their selected Blinks to their Kindle device so they can continue reading on a larger screen.
Access to Shortcasts: Shortcasts are Blinkist's original audio content, designed to help you learn quickly and easily. Premium subscribers have access to all Shortcasts.
Share your subscription with a friend: Premium subscribers can share their subscription with a friend so you can learn together.
The Blinkist Premium plan offers several valuable features and benefits to help you learn more efficiently and effectively.
FAQs
How much is Blinkist per month during Black Friday?
You can get Blinkist premium at just $1.67/mo during the Black Friday Sale 2023.
Is there any money-back guarantee by Blinkist?
Yes. Blinkist is providing a 14-day money-back guarantee. If you are unsatisfied with it, you can request a refund.
Is there any Free Trial offer on Blinkist during the Black Friday Deal?
Blinkist is offering its premium plan at a 79% discount for $20 yearly during black Friday, so they are not providing a 7-day free trial this time.
Should I use any coupon code on Blinkist to get a 75% discount during Black Friday?
Final Thought for Blinkist Black Friday Sale
Blinkist gives this discount only once a year on Black Friday, and this year, in 2023, you are getting up to 75% discount on the premium plan.
If you grab this deal now, you'll only have to pay $20, and you can use the premium plan for a year.
You shouldn't miss this Blinkist Black Friday deal. This deal is only for a limited time, so take advantage of it before it ends.