Get up to 75% OFF on all Shared Hosting Plans, VPS, Reseller, Dedicated, Website Builder, Email, and Domain during BigRock Black Friday Deals from 20th to 27th November 2023.
BigRock Black Friday Sale 2023- Details
Special Offers on Email Hosting
Always choose a professional and secure email address for starting your business.
| | |
| --- | --- |
| Business Email | Rs 39/Mo/Account |
| Enterprise Email | Rs 79/Mo/Account |
| G Suite | Rs 81/Mo/Account |
Get benefits from this Black Friday and Cyber Monday sale and a 20% discount on Codeguard, Sitelock, and SSL.
| | |
| --- | --- |
| Codeguard Backup Service | 20% Off |
| SiteLock Malware Protect | 10% Off |
| SSL Certificates | 10% Off |
---
Looking for good deals and discounts on the Black Friday Sale 2023?
We will give you the BigRock Black Friday deals of 2023 to provide you with the best offers and services.
This BigRock is one of the leading web hosting providers and domain name registration companies because it offers affordable service.
BigRock Cyber Monday Deals
Flash Sale Hours 3 PM to 6 PM Only today
Promo Dates: 20th to 30th November 2023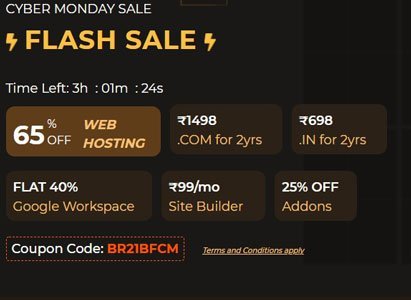 Hosting
Shared & Cloud Hosting Flat 61% Off On Hosting
VPS Server 30% Off
Reseller Hosting 41% Off
Dedicated Server 25% Off
Website Builder
Starts @Rs.99/mo
Domains
.COM @Rs.399/yr (new users only) – use code DODOFFER
.IN @Rs.399/yr
Emails
Google works space email 50% off up to 10 seats/emails only
Business email 30% Off
Enterprise email 38% Off (annual plan only)
How to Activate These BigRock Black Friday Deals?
We provided a step-by-step process to give you a better understanding. Follow them to grab the offer,
Click here to land on the BigRock home page.
Choose a preferred hosting plan.
Register with your old or new domain name.
Create a new account or log in to an existing account.
Complete the payment.
Now, you can enjoy their web hosting service.
BigRock Black Friday Sale 2023 Plan and Pricing
You can find many hosting companies in the market, and that strategy will force you to buy their plans, which would be with you for years without impacting your website's growth.
Always buy a plan that fits your needs, and remember that you should never pay for the resources you won't need.
You can get both Linux-based and Windows-based hosting plans from BigRock. You can select shared hosting plans if you start a small website with small traffic.
Linux based shared hosting plans
Choose your target country plans only. If you want to target India for your business, you should select Indian Plans instead of USA plans. Because it will affect your website performance, you will get better performance than USA plans if your target country is India.
Notable points:
The longer the billing cycle, the more prominent the discounts on the hosting plans will be and vice versa.
Since cloud hosting is shared hosting's upper model, it comes under the option of Shared Linux Hosting by BigRock. In the cloud, your data will be stored on multiple servers, but both are shared services in the cloud.
It provides more plans under cloud hosting.
Windows-based shared hosting plans of BigRock
Notable points
The longer the billing cycle, the more significant the discounts on the hosting plans, and vice versa.
If you think that your website needs more resources, then you will need VPS hosting. When you compare the hosting plan with other companies, BigRock's VPS hosting starts at an affordable price of ₹555 per month.
BigRock Cloud hosting plans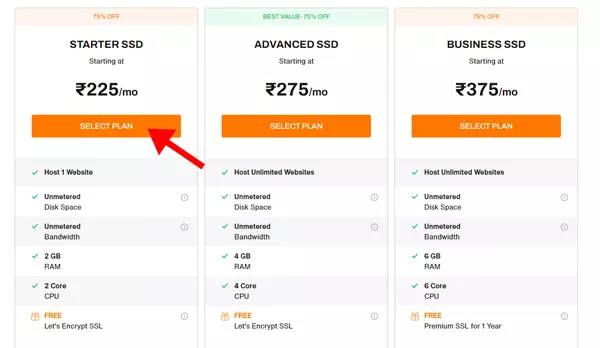 Notable points:
The longer the billing cycle, the more prominent the discounts on the hosting plans will be and vice versa.
You will get a free SSL certificate for all plans.
If you need dedicated hosting, you will have two options to choose the Indian or American servers.
BigRock Linux Dedicated Server Hosting
Indian Dedicated Server
These Indian Servers are much costlier than the American servers, but they offer quick loading time around Asia.
BigRock provides CMS and e-commerce hosting that look similar but are not the same.
You can also get Reseller hosting with BigRock. They have a reseller hosting for both Linux and Windows. You can get discounts by clicking on the links.
Why should I buy Bigrock Hosting?
Rock Solid security for your website
BigRock ensures all your transactions and data are secured and safe. You can also ensure customers that their data is safe. You can protect your customer data under the production of BigRock with 256 bits of encryption.
Affordable price with a money-back guarantee
BigRock has a very affordable price for its web hosting. Their web hosting plans are cheaper when compared with the other web hosting providers available in the market.
You will have the flexibility to monitor the growing aspects with this cheap price. They are also offered a 30-day money-back guarantee.
Customer support
BigRock provides quick and good customer service and is available 24*7 for chat Support. They will call you for feedback about their services; if you have trouble, you can clear it through them. BigRock is the friendliest web host ever.
Provides Both Windows And Linux Based Hosting To Increase Your Option
You can base your web hosting on Linux or Windows, so you would not suffer in finding a web host that suits your device and can avoid making changes after signing up.
99.99% Uptime Ensures Bigrock's Reliability
It ensures 99.99% uptime, making your website quicker than you imagine. They provide fast performance with their quality and high-end hardware. Through their shared services, you can get 2X more speed than usual.
If you are looking for reliable, fast, and affordable web hosting services, then BigRock is the best choice for you.
Who is BigRock hosting for?
Trying to improve your website performance? Then you should look at this. BigRock gives you the best services at an affordable price. You can go to this if below are your needs,
New domain registration
Domain transfer from the old registrar to the BigRock
Web hosting ( shared, reseller and WordPress hosting )
E-commerce solutions
Web Building Products
Digital Certificates
Website Backup Services
Frequently Asked Questions on BigRock Black Friday Sale 2023
Is BigRock Hosting good?
BigRock has been delivering its service for about nine years, and most of its customers are satisfied. The prestigious Endurance International Group acquired it.
Is there a money-back guarantee?
They offer a 30-day money-back guarantee for all purchases at BigRock.
Is BigRock hosting affordable?
It made its name through its affordable price. They deliver a good quality service for your tight budget.
Does BigRock provide consistent customer service?
They give instant services through 24/7 Technical support through chat/phone/email.
Conclusion
Grab these BigRock Black Friday Sale 2023 & Cyber Monday Deal today because these offers are only valid for a particular time period, so make your decision and get a discount here. If you have any questions, please let us know by commenting on the section below.
---
Similar Deals: